Early cancer diagnosis: a spotlight on one oncologist's research
Clinical Research Fellow Dr Elena Cojocaru, whose role is funded by The Royal Marsden Cancer Charity, tells us about her work to help improve early cancer diagnosis.
Can you explain what your role is?  
I have been working at The Royal Marsden as a Clinical Research Fellow for over four years, and I am also a medical oncologist. I started working in the Oak Foundation Drug Development Unit at the hospital, followed by the Sarcoma Unit. Now, I am part of The Early Diagnosis and Detection Centre, working in collaboration with the Cancer Genetics Unit.
I find my role very satisfying, knowing that our work will help to benefit patients. Funding from The Royal Marsden Cancer Charity supports my role, and is crucial in helping us run our studies, as well as helping our research team to grow.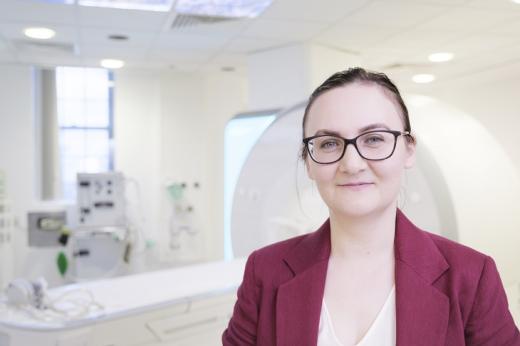 What is the focus of your work in early diagnosis?  
My team and I are aiming to improve the early detection of cancer in those who are at high risk of developing cancers during their lifetime. I'm focused specifically on developing a blood or urine-based test which could potentially detect tumours in people who don't have any cancer symptoms.
What is a typical day like for you at The Royal Marsden? 
My day usually involves a lot of collaboration with statisticians and laboratory staff. I can be collecting data for analysis or running investigations that are needed as part of our clinical trials, such as collecting samples. I also attend genetics clinics, where I meet and assess new patients at risk of inheriting a genetic condition, identifying those who may be suitable to participate in our studies. 
What research are you currently involved in? 
I am working on the SIGNIFIED study, which is identifying cancer in its earliest stages. Led by Dr Angela George, Clinical Director of Genomics, the trial monitors patients with Li-Fraumeni syndrome, a very rare hereditary condition where people are at higher risk of developing several cancer types due to an inherited gene called TP53.  
Patients on this trial, who have been recruited from across the UK, receive two whole-body MRI scans annually at The Royal Marsden to help detect any cancer sooner.
Already, we are seeing some patients have further investigations for cancer and we also have confirmed cases of cancer in patients who are asymptomatic, which otherwise would not have been picked up. 
Read more about The SIGNIFIED study, which is supported by The Royal Marsden Cancer Charity and funding from the Small Business Research Initiative for Healthcare (SBRI).
The Royal Marsden Cancer Charity is the largest charitable funder of research at The Royal Marsden. Thanks to our supporters, we are able to fund researchers like Elena, who are helping to drive breakthroughs in cancer diagnosis and treatment.  
Learn more about ways you can support pioneering research at The Royal Marsden.
Read more inspiring stories on our blog.