FISH testing
Molecular diagnostics are transforming the treatment and care of thousands of paediatric patients at The Royal Marsden, and Fluorescence In Situ Hybridisation (FISH) machines are playing a vital role in this.
A FISH test "maps" the genetic material in a person's cells. It is used across many cancer types and sub-types to detect and analyse genetic abnormalities that can help predict a patient's response to treatment. 
Thanks to a generous donation from Daniel Peltz OBE and Elizabeth Peltz to The Royal Marsden Cancer Charity, we have now been able to fund two new machines at the hospital which are already making a vital difference. More than 6,500 FISH  tests have been performed and analysed by the clinical genomics team in the past 18 months, including 650 paediatric samples, helping to guide Consultants' treatment decisions.
An early and accurate diagnosis for paediatric patients with leukaemia is paramount for their treatment and survival. FISH tests not only enable patients to start the most suitable treatment for their specific cancer as soon as possible, but by revealing the unique genetic make-up of the patient's cancer, these tests also help doctors reduce the amount of treatment required and the potentially harmful side-effects.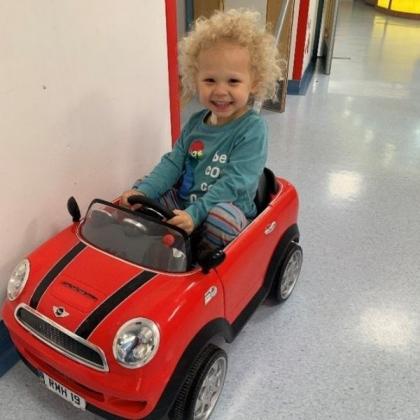 Reid's story
In April 2021, Reid was diagnosed with acute lymphocytic leukaemia (ALL), aged just three. 
Thanks to a FISH test at The Royal Marsden, it was rapidly determined that Reid's specific cancer sub-type had a good prognosis. This meant he could quickly start the treatment that was most likely to work for him. 
Reid's mum, Carine, said: "When we were given Reid's diagnosis, it was a massive shock, but it was a relief to know exactly what was wrong with him.
"We knew he was going to receive the best care, and he was going to be okay."
"Within one month of starting treatment at The Royal Marsden, we received the incredible news that Ried was in remission. To hear how well he was responding to treatment was everything we wanted to hear."
"It means a lot to know that this machine helped the doctors to identify what was wrong with Reid more accurately. His treatment plan involves a lot of different medications and as a parent, you wouldn't want your child to be on too much or too little."
Reid will soon be starting the final phase of the treatment plan and he will then have three years of general maintenance therapy.
His mum Carine said: "The treatment has not been easy for Reid. He had to learn to walk again, but he is now running about! His little legs are getting stronger every day. He is such a fun kid and loves to play with his older sister, Jaime. We are so proud of our little dude."
Donate
Help fund future research into cancer treatments by donating to The Royal Marsden Cancer Charity.