PACE trial reduces side effects of radiotherapy
In a new trial, research teams have compared the long-term bowel and bladder side effects for patients receiving stereotactic body radiotherapy (SBRT) to those receiving standard radiotherapy treatment.  
This March is Prostate cancer awareness month. Prostate cancer is the most common cancer in men in the UK and it is estimated that 1 in 6 men will be diagnosed with prostate cancer in their lifetime. 
The PACE Trial
PACE is the first global randomised trial of its kind and is part of an umbrella of trials supported by funding from The Royal Marsden Cancer Charity.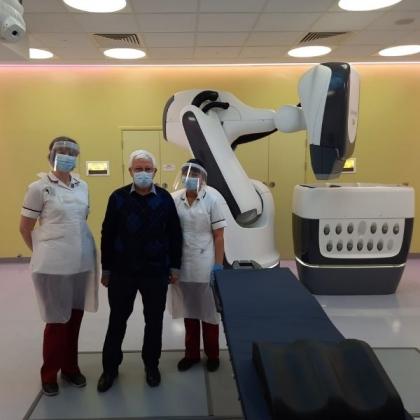 In 2021 Researchers from The Royal Marsden and The Institute of Cancer Research (ICR) found that two years after treatment, nearly 90% of all patients on the trial experienced only minor side effects. 99% were free of severe side effects, suggesting that shortened, potentially curative treatment can be given without the risk of long-term side effects. This has significant implications for patients' comfort and quality of life while receiving treatment. 
SBRT, which can be delivered on a CyberKnife, allows clinicians to target tumours to sub-millimetre precision. 
A CyberKnife is a robotic radiation system that can deliver radiation to patients with pinpoint accuracy. 
It delivers five high doses of radiation to patients over one to two weeks. Standard radiotherapy delivers more moderate doses over approximately 20 sessions and can take up to one month. Men who were given their SBRT on the CyberKnife were less likely to have any urinary side effects than those receiving standard radiotherapy. 
41% of patients on the PACE-B trial had their SBRT on the Cyberknife, and this pioneering piece of equipment can deliver radiation to patients with pinpoint accuracy. This means that less healthy tissue is damaged during treatment, and fewer treatment sessions are needed. The remaining patients received their treatment on a standard Linac machine.  
At The Royal Marsden, the two Cyberknife machines are funded by The Royal Marsden Cancer Charity. The machine features a special multileaf collimator (MLC) head that offers faster treatment delivery times and shorter treatment sessions for patients.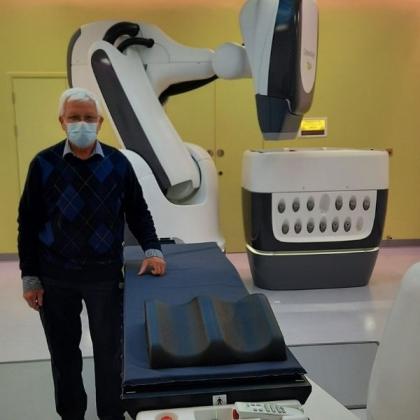 Colin's story 
Colin, 74, from Surrey, was diagnosed with prostate cancer in March 2021 and received treatment through the PACE trial at The Royal Marsden. After just five SBRT treatment sessions on the CyberKnife, he was been told that his disease has been successfully eradicated.   
Colin said: "My diagnosis was quite a shock and being told that you need to have radiotherapy treatment is nerve-wracking, especially when reading about the different side effects that could happen.
"However, I was happy to pioneer and help by going onto this clinical trial to receive radiotherapy on the CyberKnife.   
"I feel really lucky to have had treatment that was over so quickly and I have suffered no side effects. It hasn't disrupted my quality of life, routine or really stopped me working at all. I feel brilliant to be given such good news about the treatment outcomes, which coincided with my 50th wedding anniversary – it was a double celebration that weekend!   
"The Royal Marsden CyberKnife team are my guardian angels; I can't thank them enough for what they have done for me. I also can't thank The Royal Marsden Cancer Charity enough for supporting the hospital and funding this equipment. Now I want to support the Charity and raise money to thank the hospital that saved my life."  
This research was presented at the European Society for Radiotherapy and Oncology (ESTRO) Congress in August 2021. This means that teams in hospitals across the UK and Europe can now apply these learnings to their treatment plans, confident that they can deliver more targeted and shorter treatment without the risk of worse side effects for their patients. 
Find out more
Read more about the work we do and how we support the life-saving work of The Royal Marsden.