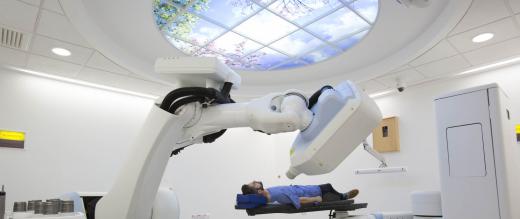 CyberKnife: state-of-the-art radiotherapy
CyberKnife is the first – and only – robotic radiotherapy system, which means more accurate, more intensive and less damaging cancer treatment. Donate today so we can continue to invest in pioneering equipment. 
Thanks to your support, The Royal Marsden was one of the very first hospitals in the UK to offer this pioneering equipment.
What is the CyberKnife?
CyberKnife is a robotic radiotherapy system that can deliver radiation to patients with pinpoint accuracy. This means less healthy tissue is damaged during treatment, and less time in hospital.
Because the radiotherapy is focused, the beams can be more intense than other treatments and so fewer sessions are needed. Treatment for lung cancer could be reduced from six weeks to three days! Features of the CyberKnife include X-ray cameras that monitor the position of the tumour and sensors that monitor the patient's breathing.
As the CyberKnife's robotic arm can be positioned at almost any angle, it's ideal for treating hard-to-reach tumours like brain, spine, lung, neck and prostate cancers too. Professor Nick Van As, our Medical Director, says, "It's what we've always wanted to be able to do."
Invest in the best
We would not be able to invest in state-of-the-art equipment like CyberKnife without your support. Please help us continue to do so.
"I was treated like a VIP"
78-year-old Val Warren from Kingston received CyberKnife treatment for ovarian cancer. Val, who works as a lunchtime supervisor at a local school, said:
I can't speak more highly of my CyberKnife treatment at The Royal Marsden. The staff and the environment was lovely. 

I was treated like a VIP. Everyone was so nice. During my CyberKnife treatment I would lie very still for about 45-minutes - my sessions were long as I had quite a strong dose of radiotherapy targeted at my pelvis.

While you lie there the machine moves backwards and forwards around you. The CyberKnife room is beautiful - to help pass the time during treatment I would count the blossoms on the celling.
Standard radiotherapy can be quite gruelling. For those patients who can receive radiotherapy with CyberKnife, it has really transformed their treatment.
Worldwide trial
The Royal Marsden is also leading international research into the benefits of using CyberKnife to treat prostate cancer.
The Prostate Advances in Comparative Evidence (PACE) study is comparing CyberKnife with current standard treatments of surgery and radiotherapy.
We hope the trial will show that CyberKnife offers patients even better outcomes, and that it creates fewer side effects that can affect a patient's quality of life.
Find out more about Cyberknife, and how this new technology makes a difference to the treatment we can offer patients at The Royal Marsden.
Supporters of The Royal Marsden Cancer Charity raised
£4.1 million
for the purchase and installation of CyberKnife