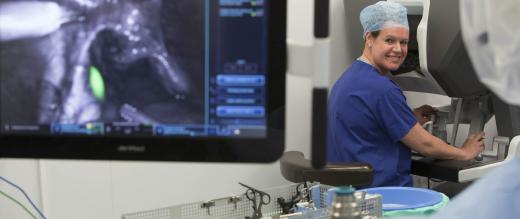 ​How da Vinci is changing cancer surgery
Renaissance science and arts heavyweight Leonardo da Vinci may have invented the first robot and now his namesake, the revolutionary da Vinci surgical system, funded by our supporters, is changing the way we treat cancer.
The da Vinci system is a pioneering surgical robot that increases accuracy during operations.
What is the da Vinci robot?
The robot gives surgeons more control than ever before and great accuracy which reduces the side effects of surgery and speeds up recovery times.
In 2015, we become the first hospital in England to use the latest model: the da Vinci Xi, followed by the acquisition of a second in 2018. This advanced version also offers a magnified 3D view inside a patient, with robotic arms that move independently from the main robot.
This means surgeons can operate on several different areas of the body at once, which is often needed when dealing with advanced cancers.
More than
3,000
robotic surgical procedures
have been performed at The Royal Marsden
since January 2007
The next generation
Thanks to a dual console on the da Vinci Xi, we can train the next generation of robotic surgeons during live operations – don't worry: there's no risk to the patients during training!
Our Robotic Surgery Fellowship programme, aims to train up to 10 surgeons in robotic surgery, and so far 3 surgeons have completed the Fellowship. Thanks to supporters of the charity we have also been able to fund the a Robotic Surgery Nurse Fellowship, the first of its kind in the UK.
The da Vinci system is ideal for treating prostate cancers, but it's now being used to operate on breast, gynaecological, gastrointestinal, bladder and testicular cancers too.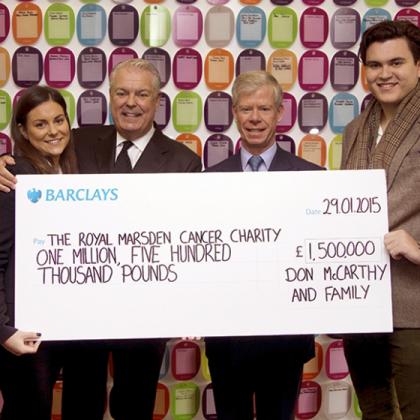 "The legacy of my wife lives on and helps others"
The first da Vinci Xi robot was funded by a generous donation from our supporter Don McCarthy, with his children Hannah and John.
The Royal Marsden provided excellent care when my wife Diane was ill and it was really important to us to give something back.
It's great to know that our donation has gone towards some really exciting technology that will hugely benefit patients. It's a fantastic way of ensuring the legacy of my late wife lives on and helps others in some way.
"I recovered so quickly"
Rita Hegarty was diagnosed with bowel cancer in February 2012. She was treated with radiotherapy and then became the first patient in England to be treated with the da Vinci Xi robot in 2015.
The most amazing thing was how quickly I recovered. I felt well enough to walk around within five days and was out of hospital pretty quickly. Also, because the robotic procedure was done through keyhole surgery, I have minimal scarring.

I was nervous about being the first patient, but you just have to trust your consultants and understand they know what suits your body best.
How you help
Donations – large and small – from our supporters funded both da Vinci robots, so help us continue to lead the way in robotic surgery.