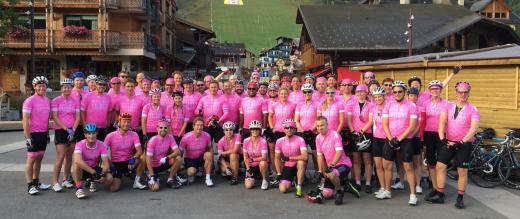 Curistas raise over £1.7 million
Le Cure de France is a cycling event, set up to raise money for breast cancer research. The team - Les Curistas - have raised over £1.7 million, which has directly funded research fellowships at the hospital.
Fancy taking part in Le Cure 2021?
In its eighth year, the ride will take in more of the iconic Tour de France climbs over four days of riding in the French Alps. Get in touch with team Le Cure to find out more. 
The annual cycle ride was founded in 2014 when friends and family of breast cancer patient Marianne Butler decided to help fund more of the pioneering research we do into beating breast cancer.
How it all began
In September 2013, Marianne was diagnosed with breast cancer. She was referred to The Royal Marsden where she was given chemotherapy and two drugs, herceptin and pertuzumab.
She was the first person at the hospital to receive this combination of drugs for a first occurrence of breast cancer. They were only available as part of a research programme run by Professor Ian Smith.
Just six months after her diagnosis, Marianne was given the all-clear. She wanted to do something to help more women like her benefit from our work, and Le Cure de France was born.
Every year
over 55,000 women
are diagnosed with breast cancer in the UK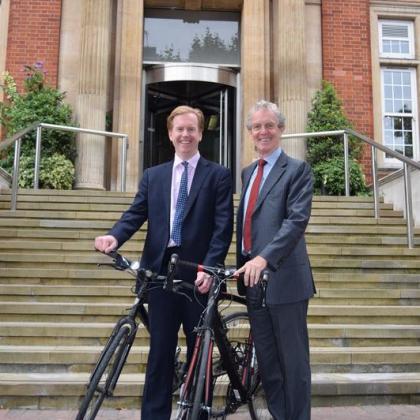 Our staff take part too
The route for Le Cure takes in hundreds of miles over the French Alps, along some of the same stages as its namesake, Le Tour de France. 
Professor Smith, Consultant Medical Oncologist, has been part of the team since the first race in 2014, while Consultant Plastic Surgeon, Mr Stuart James, joined him in 2016. Prof Smith says, "It is mentally and physically exhausting!
But it is all worthwhile given the enormous sums of money my fellow cyclists and their friends are raising for our breast cancer research programme.
The difficulty of the challenge, and the commitment of all taking part, only serves to demonstrate the importance of the work of The Royal Marsden.
Funding for fellowships
The money raised by Le Cure has gone directly towards funding research fellowships at The Royal Marsden. 
One published trial has already discovered that a blood test, or 'liquid biopsy', which picks up low levels of cancer DNA in the blood, can spot women who don't respond that well to current hormonal treatments and would be better off being treated with newer drugs.
Other research funded by Le Cure includes developing a mechanism to detect cancers that will become resistant to treatment, and identifying whether DNA in blood following surgery can predict if the cancer will return. The results could help change the way we treat breast cancer worldwide.
Help us to continue to find the best treatments for breast cancer
Carrying out clinical trials or research into breast cancer would not be possible without supporters like Le Cure – or you.