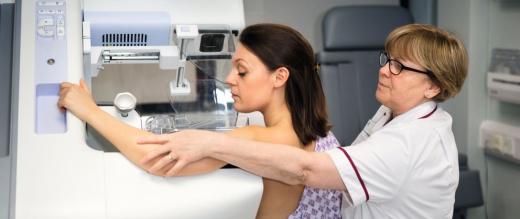 ​How we're treating breast cancer
We've been leading the way in breast cancer research for a long time. And much of this work would have been impossible without your support.
New drug treatment
30 years ago The Royal Marsden started a study of a new drug – tamoxifen. It was one of the most important trials ever carried out in our history.
The results showed the drug considerably reduces the risk of most breast cancers developing.
Professor Ian Smith, one of the clinicians working on the trial, said, "This groundbreaking trial led the world's attempts to prevent breast cancer developing in healthy women deemed at risk."
Every year
9,000 patients
from around the UK
are referred to The Royal Marsden's breast unit
Pioneering research
Our state-of-the-art Ralph Lauren Centre for Breast Cancer Research is setting a benchmark for research into the disease.
Clinicians can now identify the molecular differences between tumours to help us provide the best treatment for individual patients. This reduces the chances of the cancer returning and minimises the side effects of treatments
Today, our research teams are analysing almost 30,000 samples to discover whether combining certain therapies can reduce the risk of breast cancer returning.
Did you know...
8 out of 10 women
diagnosed with breast cancer in England and Wales survive for 10 years or more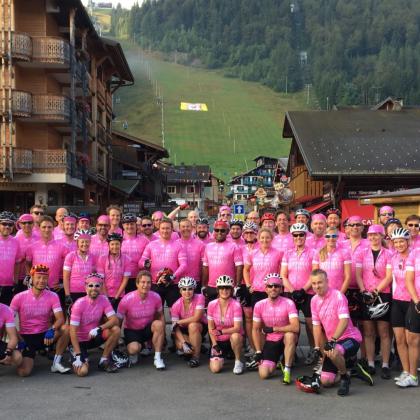 And in the pink jersey...
Supporters such as the fantastic Le Cure de France cycling team help make new research trials a reality.
Le Cure started in 2014 when friends and family of breast cancer patient Marianne Butler cycled hundreds of miles through the French Alps to raise money. They've done it every year since, and the money raised has gone towards funding three Le Cure de France research fellowships.
Blood test biopsies
Advances in research and treatment are gathering pace. With your support, we're focusing on using a simple blood test to tell us who would benefit from which treatments.
The aim is to replace invasive tumour biopsies to manage the treatment of metastatic breast cancer, which means we can evaluate the progress of the treatment more often and make any necessary changes early on.
What could you do?
With your help, we can make sure more breast cancer patients get the treatment and care they need.