George takes on the London Marathon for his parents
George Robbins raised £6,000 for The Royal Marsden Cancer Charity by running the TCS London Marathon. He was cheered on by his parents Richard and Julie, who have both been treated at The Royal Marsden.
"Visiting the hospital and seeing the care and dedication of everyone, it's difficult to put my thanks into words," says George. "Taking part in the London Marathon for the Charity is my way of pouring out my emotion into 26.2 miles!"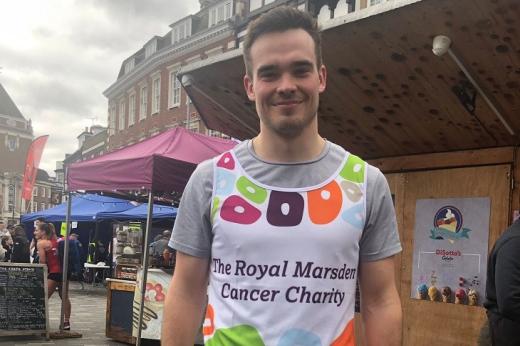 Life-saving treatment at The Royal Marsden
George's dad, Richard, was diagnosed with oesophageal cancer in 2011. He underwent major surgery carried out by Consultant Surgeon William Allum. After spending time on the Critical Care Unit to recover, before having a course of chemotherapy, he was given the all-clear in 2016.  
He said: "The staff at The Royal Marsden are just the most skilled people, with a humility that is above anything else I've ever experienced. From the nurses who take your bloods, the reception staff that welcome you to the hospital, to the day care staff – they do everything with such love and care."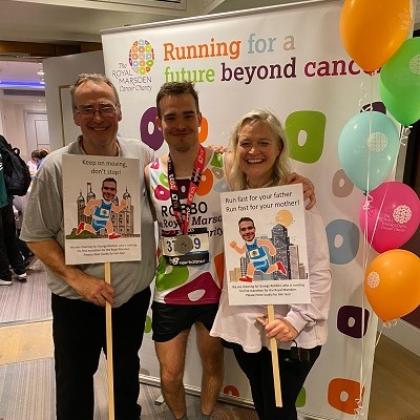 George's mum, Julie, was then diagnosed with a neuroendocrine tumour in her pancreas. This is a rare tumour affecting neuroendocrine cells that release hormones into the bloodstream.
"I was put under the care of Dr Charlotte Fribbens at the William Rous Unit in Kingston – part of The Royal Marsden," Julie says. "Having her as my oncologist has made such a difference. She's so lovely, honest and involves you in all the conversations about your care and treatment. You feel like you are helping to make these important choices and decisions."
Julie had chemotherapy before an eight-hour surgery in September 2022, carried out by Consultant Hepatobiliary Surgeon Ricky Bhogal. Just a month later, Julie's scans showed no evidence of disease.
'Super Surgeon' at The Royal Marsden
Julie said: "When I went into my surgery, I asked Ricky how many times he'd performed this procedure and he said I'd be his fourth patient. It's times like that you realise just how ground-breaking The Royal Marsden is. It's so important for us, as cancer patients, to support new treatments and surgery techniques. Without doing this, you don't get the next generation of innovation when it comes to treating cancer.
"There was an amazing moment before I went into surgery where one of the nurses told me I had a 'Super Surgeon' operating on me. I asked what she meant, and she explained Ricky had been on TV as part of Channel 4's 'Super Surgeons – A Chance at Life' documentary."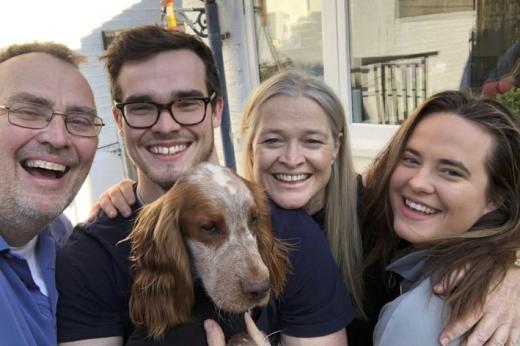 "The day that I got discharged and came back home, we all sat and watched the episode of Super Surgeons where Ricky was performing the exact same surgery on someone else that he'd just performed on me!"
How you can help
There are lots of ways you can support us to help people with cancer. If you're inspired by George running the TCS London Marathon, take a look at our upcoming events.
Discover more inspiring stories like this on our blog.