'Our daughter Alex was our inspiration to take on the London to Brighton Cycle Ride'
Fundraisers Chris and Carolyn share their experience taking part in the London to Brighton Cycle Ride for the Royal Marsden Cancer Charity after their daughter was diagnosed with breast cancer.
In September 2022, Carolyn, 58, and Chris, 59, took part in the London to Brighton Cycle Ride to raise vital funds for The Royal Marsden Cancer Charity as a way to say thank you to The Royal Marsden for looking after their daughter Alex.  
"Taking part in London to Brighton was a really great experience," Says Carolyn, "we got a lot out of it, and it gave us a real sense of pride to be doing something so meaningful! We were so proud to be representing The Royal Marsden and it was lovely to see others taking part in their Team Marsden kit during the challenge too."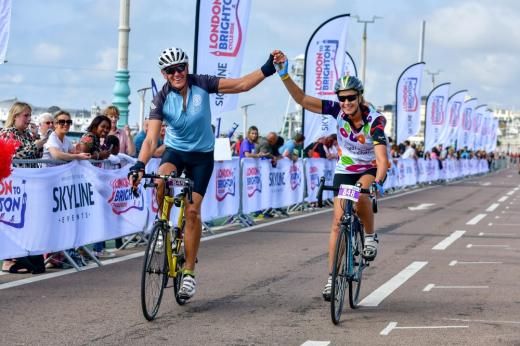 "We wanted to raise money for The Royal Marsden as we felt a bit helpless after our daughter Alex's cancer diagnosis. The Royal Marsden have been so fantastic, and we wanted to do our bit. Staff at The Royal Marsden made Alex feel like she was the most important patient they had, they really looked after her. We're so proud to have fundraised to support them." 
In 2022, Chris and Carolyn's daughter Alex was diagnosed with stage three breast cancer at age 24. 
"It was a massive shock when Alex received her diagnosis" says Carolyn "especially as she's so young. Even right up to just before her diagnosis, none of us were expecting the news that we got. She'd been to the doctors after noticing a change in the shape of one her breasts, but they didn't think it was anything to be worried about. When she went back to the doctors a year later, we were all still convinced that it was nothing."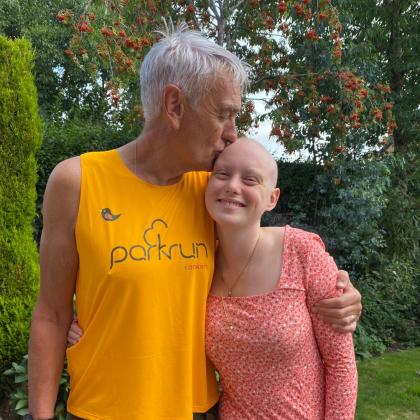 Alex was referred to The Royal Marsden for a biopsy, and in March 2022 was diagnosed with stage three breast cancer. Since her diagnosis, Alex has had chemotherapy, a mastectomy and reconstructive surgery at The Royal Marsden. She is now on a hormone treatment and recently finished radiotherapy treatment. 
"The Royal Marsden have been absolutely brilliant, no stone was left unturned in their desire to help her get better." says Carolyn. "The speed in which everyone moved with her treatment after she was diagnosed was incredible. Alex is so lucky that she's been under their care."
"Alex was our inspiration."
"As parents going through the experience of their daughter having cancer treatment, fundraising for The Royal Marsden Cancer Charity gave us an avenue to feel like you're really doing something to help – at a time when you feel quite helpless."
"My husband and I are quite sporty, and we were looking at The Royal Marsden Cancer Charity's fundraising events to see if anything caught our eye. The London to Brighton cycle ride stood out as we used to live in Brighton and Alex was born there. It seemed like a fitting event to take part in to support Alex and the hospital that was looking after her."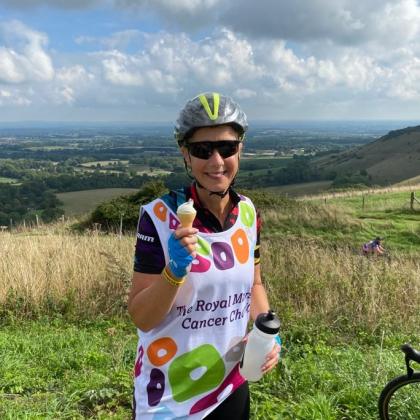 "The best part of the route was reaching the top of the Ditchling Beacon, the highest point in East Sussex – especially as it was all downhill from here to get to the seafront!"
"I thought about Alex the whole way and managed to get to the top without getting off my bike once. She was my inspiration to make it. This was the best feeling, riding to the top of this huge hill and knowing we didn't have far left to go before the finish line."
"We rode through the finish line together. It was such a special moment for us as a family."
"Returning to Brighton, was so special as this is where we lived after Alex was born. It was really nice cycling towards the finish line and having those memories. Alex had just had a mastectomy so unfortunately couldn't meet us at the finish line. She was so excited and so proud of us. We'd been sending her photos the whole time whilst we were on the route."
"We raised around £2,500, I think everyone we knew sponsored us! I was doing regular updates on Facebook with the progress Alex was making throughout her treatment and reminding our friends and family about the challenge. We're keen to do anything we can do to fundraise for The Royal Marsden and raise awareness of their work. Alex's boyfriend and friend have also been fundraising, so far, we've all raised quite a lot for The Royal Marsden in Alex's name! I would definitely recommend to others to get involved with fundraising for The Royal Marsden Cancer Charity!"
Join Team Marsden for the London to Brighton Cycle Ride 2023
Interested in taking on the London to Brighton Cycle Ride for The Royal Marsden Cancer Charity this September?
Feeling inspired?
Find a fundraising event to suit you today.