Running the toughest race on earth for the nurses at The Royal Marsden
Charity supporter Fred Dalton tells us about his experience completing a 250km race through the Sahara and what the incredible care of the nurses at The Royal Marsden has meant for his family.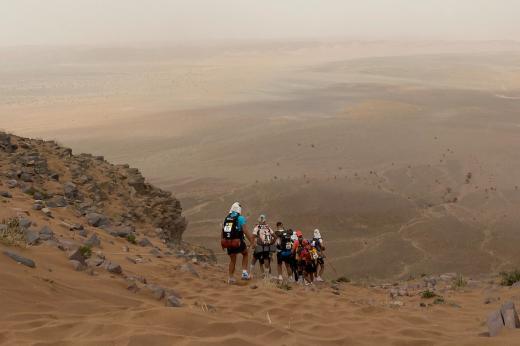 It is not just the distance that makes The Marathon Des Sables one of the most intense physical challenges out there, but the inhospitable environment. Runners push themselves to the limits, battling harsh terrain and scorching heat, sometimes reaching upwards of 50 degrees. Over the course of the seven-day race runners cover the distance of six marathons, traversing sand dunes, salt plains and rocky outcrops whilst carrying all their food and equipment on their backs.  
Earlier this year, Fred Dalton, 35 from London, set off to Morocco to take an extraordinary race and raise funds for The Royal Marsden Cancer Charity after his sister Dizzy was treated at the hospital.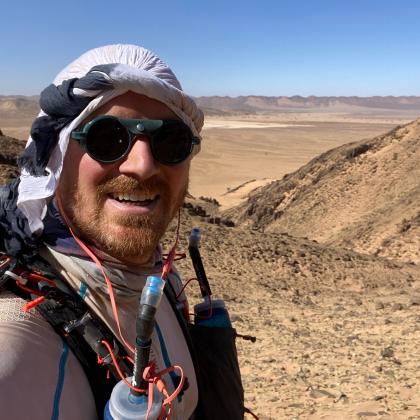 "Of all the competitors, I think I had the heaviest bag!" laughs Fred, "I'm not an Ultra-Marathon runner by any means, but the whole point of this was do something which is utterly ridiculous so that people will be as generous as possible with their donations for such an amazing cause." 
"When you first sign up, you have no idea if you're fit enough to do it. I did this same Marathon before with my brother and he absolutely decimated his feet! This was 10 years ago…so I had no idea how my body would handle it again now I'm 10 years older!"
"I want you to run it for them" 
"Four years ago, my sister Dizzy was diagnosed with Hodgkins Lymphoma. Her treatment, like all cancer treatment, was an ordeal. It was the kind of ordeal that makes you realise that 6 marathons in 7 days is just a blink of the eye. Having raised so much money before I set off, I knew I had to get through it, even if I crawled through the finish line. Dizzy was my inspiration!"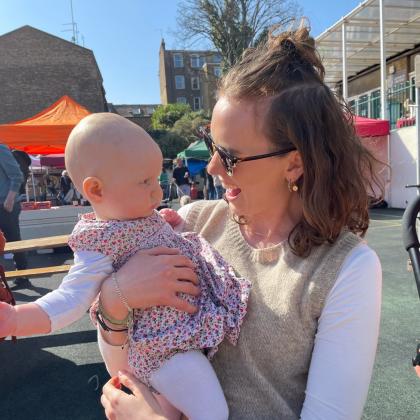 "The motivations behind why I took part in this event unquestionably got me through the tougher moments of the challenge."
"I don't need to tell you that cancer treatment is often a scorched earth policy applied to the body: it is brutal and it is indiscriminate. When her treatment did not work first time around, Dizzy was given a difficult, complex, but truly remarkable stem-cell treatment. Four years later, after a gritty battle, she is a picture of health and miraculously has a beautiful baby daughter, called Thea, whose name means 'Gift from God'." 
"What made my sister's treatment bearable was the care and kindness of the nurses at the Royal Marsden."
"They truly share the load – caring for patients at the bleakest moments of their lives and sadly, and all too often, at the ends of their lives too. When I asked Dizzy who she wanted me to run for, she said 'I want you to run it for them'. As Dizzy says, 'it is only the nurses who can tell you what you really need to know – how you'll feel, how you'll cope, how to get through. My clinical nurse specialist was, and still is, my guiding light'." 
"I cannot imagine what Dizzy went through and what patients at The Royal Marsden go through every day. For Dizzy, the relationships she had with her nurses helped to get her through the most difficult period of her life. We wanted to help, even in some small way, to show how grateful we are."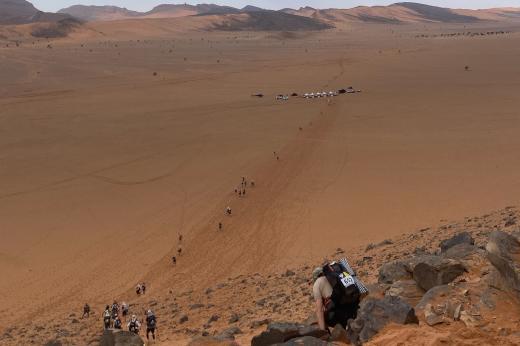 The highs and lows of seven days running in the desert.  
"You meet such great people doing this event, there is a real camaraderie; about 1,000 people took part! We were the year that the first person completed the Marathon Des Sables barefoot, and another person ran the race in a Spiderman outfit…I think he even slept in it!" 
"There were a lot of benefits to having done this challenge before. However, there were a few grim moments too. My feet were in pretty bad shape and on day two we had sandstorms and headwinds that lasted for about 5 hours at a time. Also, on one night while whilst I was running across the sand dunes the batteries on my torch headlights decided to run out."
"When I completed the challenge, I felt such relief!" 
"We're absolutely thrilled with how generous people have been, we've raised over £33K! It's been a real family effort on the fundraising, loads of Dizzy and mum's friends have been so supportive. Every penny donated to my challenge is recognition for the wonderful work that the nurses do and is a small way for us, as a family, to say thank you to them for saving Dizzy and for bringing us Thea." 
Feeling Inspired?
Discover our upcoming fundraising events and challenges