"I feel so grateful to have the opportunity to live a normal life" - Sue's story
Sue, 62, was treated at The Royal Marsden following a breast cancer diagnosis in 2018. She tells us why she will be leaving a gift in her Will to The Royal Marsden Cancer Charity.
Following a routine mammogram, Sue, a Neonatal Nursery Nurse from North Cheam, was diagnosed with breast cancer when she was 58 years old. She went on to have successful surgery and treatment at The Royal Marsden and was able to return to work and her passion of cycling.
She continues to do well and took part in Ride London just 8 months after finishing her treatment. She decided to leave a gift in her Will to The Royal Marsden Cancer Charity as her way of saying thank you to the hospital that treated her.
Diagnosis and coming to The Royal Marsden
"I was really lucky that my breast cancer was found on a routine mammogram. I'm the fourth member of the family to get breast cancer but they told me that it wasn't genetic, it was just bad luck. When they gave me the news, I burst into tears.
"I was well aware of The Royal Marsden before I was treated there. When I was given the choice about which hospital to go to, it was an absolute no brainer."
Surgery and treatment
"The initial scan I had at another hospital showed that the tumour was measuring an estimated 17mm long. When they took it out, it was actually 30mm. The fact my cancer was bigger than they thought but hadn't spread to my lymph nodes, I qualified to have onco type testing where my samples were sent to America. This is what determined what treatment I needed which ruled out any chemotherapy.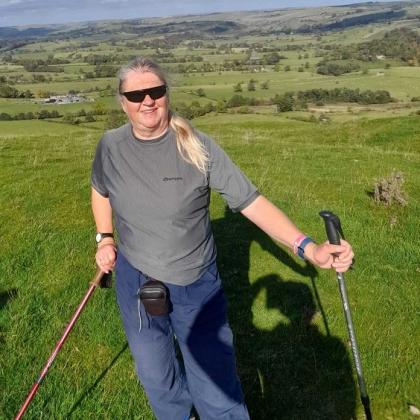 "Luckily, I only needed a lumpectomy and radiotherapy. I got away with not needing to have any chemotherapy, by the skin of my teeth!
"I remained active throughout my treatment and within just 2 and a half weeks of surgery, I was back doing 5-mile walks.
"For about 9 months I really struggled with my emotions. Once I settled, I was fine apart from the aches and pains I've had since treatment. I'm currently on an aromatase inhibitor medication to zap my body of oestrogen as this is what fed my cancer.
"I'll probably be on this medication for another few years yet and the side effects are quite unpleasant! The aches in your joints are the worst but the pain doesn't stop me from doing the things I love. I still do 50–60-mile bike rides and 12 mile walks every week.
"Because my joints were aching so much, my team referred me to have acupuncture at the hospital.."
Ride London
"I took part in Ride London just 8 months after my radiotherapy treatment and raised over £1,000 for The Royal Marsden Cancer Charity. I absolutely loved taking part in this cycling challenge and would really recommend it to other supporters.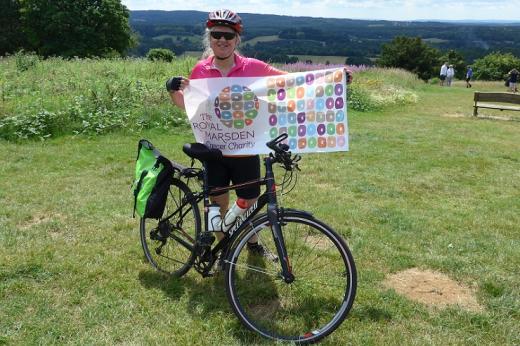 Leaving a gift in my Will to the Charity
"I decided to also leave a gift in my Will to The Royal Marsden Cancer Charity after being treated at The Royal Marsden. They have taken such good care of me since I was diagnosed four years ago.
"It's been an emotional rollercoaster. There have been lots of tears along the way but everybody at The Royal Marsden has been so lovely. I feel very lucky that I've been well ever since my treatment. To be able to go to The Royal Marsden, which is right on my doorstep, and have had my treatment so quickly following my diagnosis was brilliant.
Why research is so important
"Without research, we don't move forwards. I know that people who have been involved in research and donated to support this in the past have probably helped shape the treatment that I ended up having. Because of research over the years, the teams were able to rule out chemotherapy as a treatment option for me, which was such a relief as I really didn't want to go through it.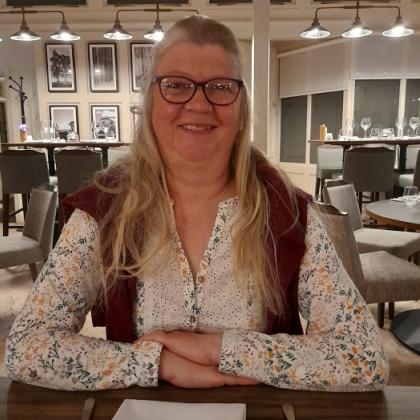 "I recently heard about research into reducing the amount of radiotherapy sessions needed for breast cancer patients and whether having 5 radiotherapy sessions could be just as beneficial as having 15. People who are travelling a long way for treatment would benefit hugely from this. My mum had to travel 90 miles a day for 15 days to have her treatment.
"Research is so important which is why I'm so keen to support The Royal Marsden Cancer Charity. I feel so grateful to have the opportunity to live a normal life after being treated at The Royal Marsden."
Writing or updating your Will couldn't be easier with our Free Will Service and by including a gift like Sue has, you can make a vital difference to the lives of cancer patients long into the future.
Considering leaving a gift in your Will?