'Joining an immunotherapy clinical trial was an absolute lifeline' - Jacky's Story
Jacky has been treated at The Royal Marsden for both breast and ovarian cancer. She shares her story of how joining a clinical trial saved her life and meant she has seen her grandchildren grow up.
In 1999, at the age of 57, Jacky discovered she carried the BRCA gene mutation and was diagnosed with ovarian cancer, which is when her journey at The Royal Marsden began. The BRCA1 and BRCA2 genes increase an individual's chance of developing breast and ovarian cancer.
"I read an article about the BRCA gene and how this is hereditary in families. I'd lost my mum, auntie and cousin to either ovarian cancer or breast cancer, so I thought I should get myself checked. I was referred to The Royal Marsden by my GP for tests, and that's where it was discovered that I carried the BRCA gene and I had ovarian cancer. This was a huge shock as I was perfectly fit and well."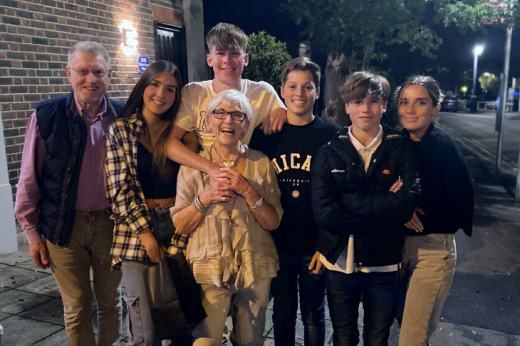 Jacky was treated with a full hysterectomy and chemotherapy but in 2008, at one of her regular mammograms, she was diagnosed with breast cancer. After undergoing two lumpectomies and radiotherapy, doctors at her local hospital discovered, during a routine hernia operation, that her ovarian cancer was back.
"My local hospital said it definitely wouldn't be operable this time and I probably had just a few months to live. It was devastating to be told this news. I was referred back to The Royal Marsden and there was such positivity from all the teams there immediately. They started me back on chemotherapy, which wasn't very pleasant but it did hold the cancer back for about nine months."
Jacky then joined the MEDIOLA immunotherapy trial, receiving a combination treatment of durvalumab and olaparib. She was treated in The West Wing Clinical Research Centre, originally funded through gifts in Wills to The Royal Marsden Cancer Charity.
"I was so excited to be offered the opportunity to join this clinical trial, I had no hesitations at all. I didn't have anything to lose. It was an absolute lifeline for me - I was in the right place at the right time. That was four years ago and I'm still on the trial today, which is keeping my cancer stable."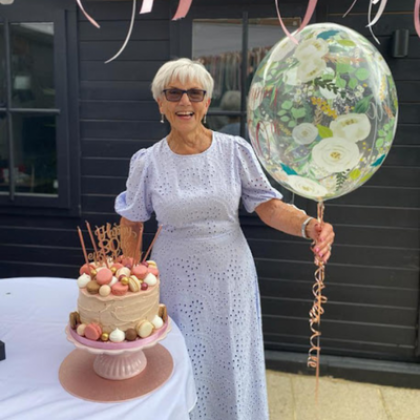 To mark her 80th birthday this year and to say thank you, Jacky organised a fundraiser for The Royal Marsden Cancer Charity, raising over £1,800.
"I have had such amazing care from The Royal Marsden - all the nurses and doctors have been exceptional. It is down to them that I have had these extra years to see my grandchildren grow into teenagers and to celebrate my 80th birthday. I have two daughters and five grandchildren - nothing beats being a grandma, it's wonderful."
Discover more inspiring stories on our blog.