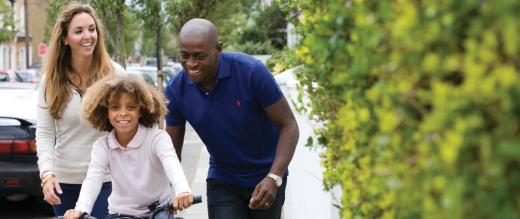 ​Leave a gift in your Will
When you leave us a gift in your Will, you're doing something amazing. Your legacy means that we can continue to improve outcomes for people with cancer here at The Royal Marsden and all over the world.
When our supporters make the choice to help us with a legacy we can continue to make a difference to the way cancer is researched and treated both here in the UK and across the world. Together, we're helping future generations benefit from the very best The Royal Marsden can offer.
If you are considering remembering us in your Will, find out how, get in touch or give our Legacy team a call on 020 7808 2233.
"I was impressed that The Royal Marsden Cancer Charity has been voted the most trusted charity for two years. I trust them to use my gift to make a difference to people with cancer."
How legacies help
By supporting The Royal Marsden Cancer Charity through a gift in your Will, you will help play a vital role in funding the essential work the hospital does for cancer patients each year. Thanks to supporters like you, we have made real progress in cancer treatment and care in recent years, and have funded projects such as:
The West Wing Clinical Research Centre was entirely funded by legacies and opened in 2014 for patients on clinical trials - it includes a dedicated on-site laboratory.
The Oak Centre for Children and Young People is based in the heart of our Sutton hospital, offering young patients the best care in comfortable surroundings.
The da Vinci Robot, a pioneering surgical robot that improves accuracy during surgery. We've now treated 1,500 patients from across the UK.
The NIHR Centre for Molecular Pathology brings leading scientists together under one roof, so new discoveries can quickly be converted into better ways to diagnose and treat cancer.
In 1855
our first legacy of £5,000
helped William Marsden buy the hospital site in Chelsea
How to include us in your Will
Thank you for considering leaving a gift in your Will to The Royal Marsden Cancer Charity and playing a part in shaping diagnosis and treatment for future cancer patients everywhere.
Our step-by-step guide has information which will help if you are writing your first Will or amending an existing one. 
Let us know
We'd love to hear from you if you have included us in your Will. It helps us have confidence in funding future projects and of course, we'd like to say thank you.