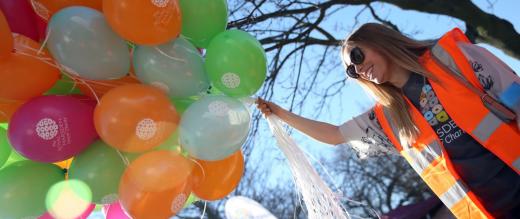 Volunteer
When you volunteer your time with The Royal Marsden Cancer Charity you are giving a very special gift. The support we receive from our volunteers helps The Royal Marsden make life better for people with cancer.
In great company
We have a team of over 500 incredible volunteers from all walks of life. From volunteering at an event through to supporting us every week in the office, their support makes a huge difference to the lives of cancer patients.
What do volunteers do?
Our volunteers do all kinds of roles, including:
manning the fundraising store at our hospital in Sutton
attending local events, such as fairs and fêtes
cheering on our supporters at sporting events
stewarding our walkers along the route of The Banham Marsden March
placing and collecting our collection boxes within the community
organising fundraising events
taking photos at events
How do I volunteer?
Just get in touch or give us a call on 020 8661 3391 to talk about current volunteering opportunities.