Volunteering for The Royal Marsden- Valerie's story
This volunteers week we are shining the spotlight on some of our amazing volunteers.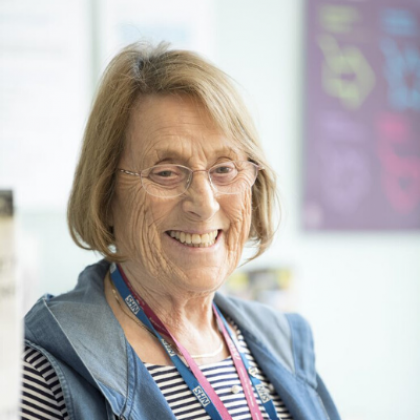 Valerie's volunteering
"I have been volunteering twice a week with The Royal Marsden Cancer Charity since March 2003.
After I retired as a school secretary, I still wanted to use my time to do something worthwhile. I live locally and always found The Royal Marsden to be such a positive place, so I decided to contact them volunteering opportunities. It's now been over 19 years, and I'm still enjoying every moment."
"Volunteering has allowed me to contribute to the hospital in a range of ways, and I've had many different roles throughout my time here.
When I first started, I was a ward runner on 'Pink Ward'; now known as the Medical Day Unit. I love interacting with the people I meet and have become a familiar face at the Sutton hospital site, where I now volunteer at the sales table. Here I help to raise money for The Royal Marsden Cancer Charity by selling a wide range of donated items to staff members, patients and visitors. We can raise up to £1,000 per week. 
The Royal Marsden is a special place. It works to provide only the best experience to their patients, and their friends and families. Everyone is so nice, and nothing is ever too much trouble for the staff.
I would definitely recommend volunteering with The Royal Marsden Cancer Charity. You are welcomed with open arms, and people are always happy to see you. It's rewarding to be appreciated for what you have to offer, no matter how big or small your contribution. It's a lovely feeling that works both ways; what you give, you receive right back. If you have the time, give it a go."
Thank you to all our wonderful volunteers!
Volunteers make a difference in a whole range of areas at The Royal Marsden Cancer Charity. Our volunteers are at the very heart of all we do and we couldn't achieve all we do without their invaluable support.
Whether that's supporting the team in the fundraising office, volunteering at events or helping to spread the word about The Royal Marsden Cancer Charity in the community, volunteers help ensure we can continue to make a difference to the lives of cancer patients at The Royal Marsden and around the world.
Interested in volunteering for us?
If you're interested in volunteering for The Royal Marsden Cancer Charity you can find available roles on our current vacancies page or get in touch with our team at [email protected].
Discover more inspiring stories on our blog