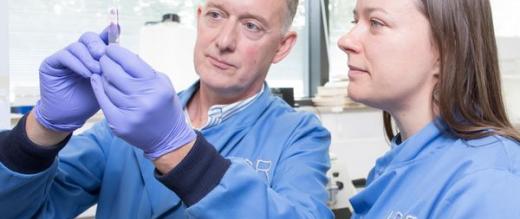 Give
There are many ways you can give to The Royal Marsden Cancer Charity - every gift helps us make a positive difference to the lives of people with cancer
How we spend your money
Money raised by our supporters means The Royal Marsden can continue to provide the best possible treatment and care for patients.
Here's where we spent that money in 2017-2018.
Life-saving research - £2.7m
Pioneering research is absolutely critical to extending, improving and saving the lives of more people diagnosed with cancer. That's why we're dedicated to helping The Royal Marsden run life-saving clinical trials that give patients at the hospital, across the UK and around the world access to the latest breakthrough drugs.
Through the five year, £15 million grant to support translational research at The Royal Marsden, we have funded work in the West Wing Clinical Research Centre, where patients on clinical trials are treated in a custom-built setting with dedicated research staff.
We also continued to fund specialist staff working in the Biobank at the National Institute for Health Research Centre for Molecular Pathology, a facility that is invaluable to research and the future of personalised treatment.
We are also funding four research fellows, through the Le Cure fundraising campaign, who are making a real difference to the treatment of breast cancer patients through molecular diagnostics.
World-leading treatment and care - £1.4m
Physically and emotionally, cancer affects everyone differently. That's why we do our utmost to fund first-class patient environments, state-of-the-art equipment and world‑leading professionals – all of which enable The Royal Marsden to provide personalised treatment and care that meets the specific needs of every individual patient who walks through the hospital's doors.
Last year, our supporters' tremendous efforts helped to fund several initiatives in this area. These include two Robotic Surgery Fellowships, two Darzi Fellows and the Gastro Intestinal and Nutrition Team (GIaNT), all of which will lead to better treatment and care and an improved quality of life for cancer patients.
State-of-the-art equipment - £14.3m
For The Royal Marsden to improve the lives of its patients and their chances of survival, it's essential that its clinicians, scientists and researchers have access to the latest equipment. This is why we fund state-of-the‑art equipment that provides faster and more accurate diagnosis and more effective and less invasive treatments, and supports exceptional personalised care. The very best equipment is also key to achieving major breakthroughs in cancer research.
Over the past year, we continued our support of robotics at The Royal Marsden through the funding of the Robotic Surgery Fellowship and a second da Vinci Xi robot. Thanks to our supporters' fantastic efforts, the hospital also installed a new CT scanner that will ensure our doctors have a clearer understanding of their patients' cancers and can provide them with increasingly tailored treatments.
Modern patient environments - £0.3m
We know that welcoming, dignified and peaceful patient environments can significantly enhance the physical health and emotional wellbeing of The Royal Marsden's patients and their families. That's why The Royal Marsden Cancer Charity continues to fund the creation of new, high-quality environments and the refurbishment of existing spaces so they meet the very best standards.
During the past year, we welcomed HRH The Duke of Cambridge to the Oak Centre for Children and Young People – which was funded by generous supporters of the Charity – as he celebrated his 10th anniversary as President of The Royal Marsden. We also funded the refurbishment of the Bud Flanagan wards, ensuring the facilities are as modern and comfortable as possible for patients with blood cancers, their families, and our staff working on the unit.
Running costs - £3.8m
These are the direct costs that the Charity incurs in order to raise voluntary income. It costs money to raise money but we continuously look to make savings wherever we can.
Currently nearly 83p in every £1 donated is able to be spent on our beneficiaries.
Our fundraising activities currently include a £70 million appeal for The Oak Cancer Centre, to be built at The Royal Marsden in Sutton.
This exciting development will be a hub for innovation and discovery - bringing together over 300 clinical researchers alongside our patients in one building, for the first time.
It's our biggest fundraising appeal yet, launched in November 2015 by our President, HRH The Duke of Cambridge.
Investment and property management - £0.2m
Our investment portfolio supports the funding of major capital developments and research projects.
At The Royal Marsden Cancer Charity our aim is to maintain the short to medium term value of the portfolio in real terms with a low-to-medium risk portfolio.