A holistic approach to young patients' pain
Young Royal Marsden patients who experience persistent pain during and after treatment can now benefit from a new service run by an expert multidisciplinary team.
The Centre for Holistic Approach to the Management of Paediatric Pain (CHAMP) clinic, funded by the Charity, is held weekly for patients in the Oak Centre for Children and Young People.
The team employs a holistic approach that encompasses physical, psychological and emotional needs at each consultation. The team's physiotherapist and psychologist have pivotal roles in supporting the patient to manage their pain, attend school, connect with friends and engage in activities they enjoy.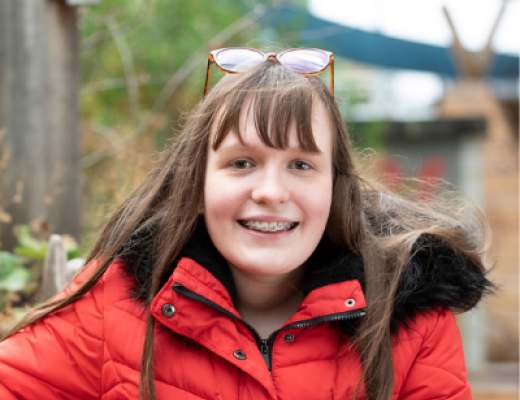 Mia's story
Mia Rumbold, 14, has been under the care of the CHAMP team for chronic pain after being treated for Hodgkin lymphoma. Her mum Sarah said:
"By the time we met the CHAMP team, Mia's skin was so painful to touch, and she couldn't walk. The team listened and gave her manageable steps to aid her recovery. Counselling has given Mia her life back and physio has given her her mobility back. I can't put into words the gratitude I have for what the team has done for us."
Consultant Paediatrician Dr AK Anderson, who leads the clinic, said: "The clinic can help patients manage their pain through a combination of different strategies.
Mia is a wonderful example of this, through learning to understand her pain experience and listening to her body, she uses both physical and psychological strategies to overcome the challenges."
Mia said: "The CHAMPS team saved me. They gave me a plan and I stick to it and do my exercises every day. If I don't, I can feel it straight away.
"I love baking, at the start of lockdown last year I could not open the oven and now I am making homemade lasagne and lots of yummy cookies and cakes."
Read more stories on our blog