Hollie and Lola's story: mother and daughter treated at The Royal Marsden
This Mother's Day we're sharing the story of Hollie and Lola. Hollie shares their story of how both she and her daughter Lola came to be treated at The Royal Marsden.
Things have changed so much in 20 years
"When I was going through cancer treatment 20 years ago, I remember leukaemia being the cancer that you really didn't want as a child. It felt like the kids who were being treated for leukaemia were the most poorly, it was really bad. This is what scared me so much when Lola was first diagnosed, I thought the worst. But it's been 20 years since I was going through treatment – things have changed so much since then.
"When I went through treatment they removed my right ovary but they told me this hopefully wouldn't affect my fertility, it would be more likely that I'd go into early menopause (medical menopause) as a result of my surgery and chemotherapy treatment and this is what might affect my fertility more. I wasn't ready to have children in my early 20s so just took the risk of waiting and then we got pregnant with Lola 2 years ago – I feel very lucky we were able to have her.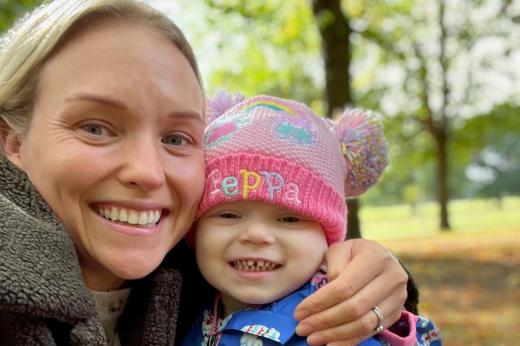 Treatment has improved
"In the moment that Lola was first diagnosed, of course I panicked, but after some time and speaking to our amazing consultant, I realised how much the treatment for leukaemia had improved and progressed due to research and that the success rate for treating lymphoblastic leukaemia is now high .
"During the two weeks we were staying at the hospital, Lola underwent further tests, including blood tests conducted on the FISH machine and cracking open her bone marrow further to look deeper into the cancer cells to analyse them.
"When the results came through, they were able to give Lola more of a specific diagnosis based on the abnormalities that they had found – this meant they were able to change her treatment to a regime which was more appropriate for her.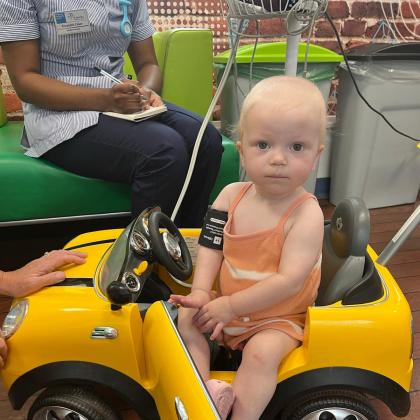 Thank you to the Royal Marsden Cancer Charity
"We're also so grateful that Lola was able to have access to the FISH testing and we'd like to say thank you to everyone who helped to fund this machine.
"We would always do fundraising to support The Royal Marsden Cancer Charity now, to say thank you for everything they've done for our little one. My family and friends and even work colleagues are also supporting the Charity on behalf of Lola. I am running the London Landmarks Half Marathon for The Royal Marsden Cancer Charity in just a couple of weeks!
"I think all the staff at The Royal Marsden are brilliant. We don't tell Lola we're going to hospital; we call it the 'playroom' – she thinks this is what The Royal Marsden is! The teams are so busy but they're so attentive, thoughtful, and thorough. It just doesn't feel like we're in hospital. Even when they take Lola to theatres for the bone marrow test, a lumber puncture or having any blood tests it doesn't feel like she's going anywhere scary."
What is a FISH test?
A FISH test "maps" the genetic material in a person's cells. It is used across many cancer types and sub-types to detect and analyse genetic abnormalities that can help predict a patient's response to treatment. Thanks to a generous donation from Daniel Peltz OBE and Elizabeth Peltz to The Royal Marsden Cancer Charity, two state of the art FISH machines have been installed at the hospital which are already making a vital difference to patients like Lola.