Inside Information- Endoscopy at The Royal Marsden
The Royal Marsden's Endoscopy Unit helps diagnose a range of cancers at the earliest possible stage. Different types of tests, including colonoscopies and endoscopic ultrasounds, performed by the Endoscopy team help provide further information to aid cancer diagnosis for patients such as Russell Davis.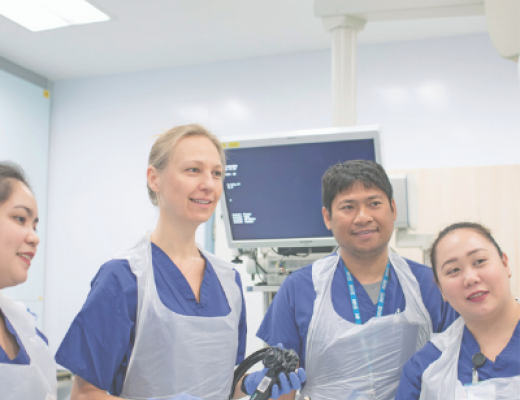 Readers of our magazine, Progress, helped the Charity fund a new piece of equipment for the Endoscopy Unit. The Endoscopic ultrasound (EUS) combines ultrasound technology with endoscopy to produce detailed images of the inside of a patient who may have upper GI cancer.
Dr Darina Kohoutova (pictured left, centre) a Consultant Gastroenterologist who is part-funded by The Royal Marsden Cancer Charity, says: "As well as diagnosing cancer earlier, it's important we ensure our patients can continue to enjoy their lives after cancer treatment."
This is particularly crucial for cancers which are difficult to diagnose early and often don't cause symptoms until they have already spread. It is essential that clinicians have the best equipment to detect cancer as early as possible to give patients the greatest chance of survival. The tip of the EUS has a small ultrasound probe that can identify tumours that may have been missed on CT scans.
Biopsies can also be taken via EUS and, when used with fine-needle aspiration, a type of biopsy procedure, it can be a minimally invasive alternative to exploratory surgery.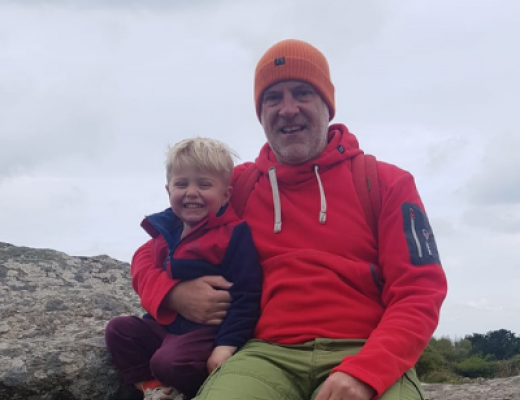 Russell's Story
Russell Davis lost his father, grandfather and great uncles to bowel cancer and was himself diagnosed with Lynch syndrome, which genetically predisposes him to bowel cancer. He started having regular colonoscopies at The Royal Marsden in 2009.
He says: "As early diagnosis makes such a huge difference to survival in bowel cancer, I was having colonoscopies every 18 months to catch it early."
In August 2018, the Endoscopy Unit discovered small growths called polyps on Russell's bowel wall. Some of the polyps were cancerous. After further investigation, he underwent keyhole surgery to remove part of his bowel.
Russell says: "Sadly, in losing my father I saved my life: finding out about the inherited condition meant I was closely monitored and was able to catch this early. I have peace of mind now that we've stopped history repeating itself, and my four year-old-son, Freddie, will be able to be much more aware and monitored as he gets older."
Read more stories on our blog