Jon's mental health rollercoaster
To mark Mental Health Awareness Week, Jon shares how his diagnosis and treatment of bowel cancer has had a huge impact on his mental health. He's helping to manage it by focusing on a big challenge: a 150-mile fundraising walk.
Jon's inspirational story creates a sense of hope and positivity.
But, it hasn't always felt like that for Jon, who experienced a lot of stress during the course of his treatment and recovery.
"It has been the biggest mental health challenge because it's stripped away all sense of purpose."
"I worked as a head-hunter – recruiting senior executives, working long hours, travelling all over the country. It was a full-on career, and to go from that kind of active working life to being effectively retired was a shock."
Take each day as it comes 
"In terms of coping, I guess the short, really glib answer is: I don't try to deal with it. I just take each day as it comes."
"I see it as, if I wake up in the morning and I can do what I want to do with my day, then I get on with it and focus on that."
"For the most part, the way my mind works is to worry about what's in front of me today and not what might be coming three months down the line. That's not always easy, though. The rollercoaster of ups and downs throughout the last few years has meant that dealing with the mental health aspect has been the biggest challenge for me, by far."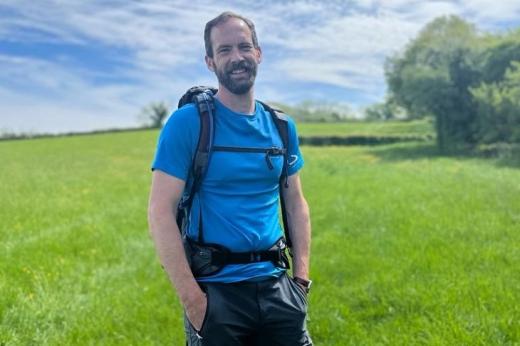 Worrying about family was tough 
"I've tried not to fixate on what my prognosis is or what that means. The sleepless nights for me have been worrying about how my wife Emma, or my mum, is going to find life if I'm not here tomorrow."
"When I was admitted to The Royal Marsden for a few weeks, Emma wasn't able to stay with me but was coming to visit on weekends. The challenge for us is that the Sutton site is an almost three-hour drive from our home in Bristol. Sometimes it can take four hours."
"I'm sure it was reassuring to Emma and to my mum to know that I was being so well cared for."
Losing purpose once the clinical trial ended 
"There was good news emerging over January and February regarding my health. The latest scans are good and I've been feeling well."
"But, equally, and this is sometimes hard to explain, there is a weird feeling when a clinical trial or active treatment stops. Suddenly, the purpose that I had – to attend appointments at Sutton, and to work towards the next treatment or scan – that's gone, along with my job. So, I was sat here wondering: what do I do with myself?"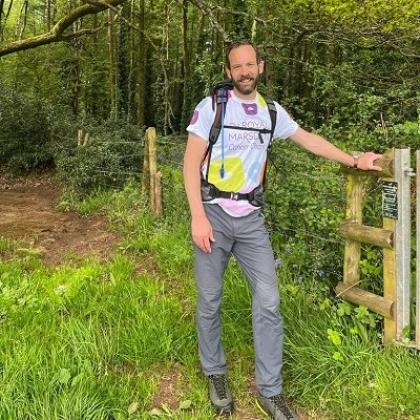 "That's how I got the idea for the walk. It has definitely given me back a sense of purpose."
I needed to get off my backside and do something. I needed to do some exercise. I need to have an objective. I need to have a challenge for the sake of my own mental health."
"But also, it just seemed entirely appropriate that I say thank you to the amazing people at The Royal Marsden that have put me in this position."
"The Royal Marsden has effectively given me three to four years more life than I was supposed to have and potentially a lot more. That's incredible when, at one point, I was told I had 12 months left to live. Also, I want to say thank you to the guys in Bristol who got on top of it at the start. Though they might not have the range of tools that The Royal Marsden can offer, they still did a lot for me in the early days."
150 mile walk to raise money 
"The walk is approximately 150 miles and I'm doing it over six and a bit days. So, it works out at about 24 miles a day. We live in Bristol, down by the harbourside and my training walks are in lovely surroundings. So, every day, I get up and do between five and 15 miles."  
"The only reason I'm here today, over five years post-diagnosis, is because of the clinical trials at The Royal Marsden. I am so grateful for the amount of time and resource that's gone into my care and I just want to raise as much money as possible to help others."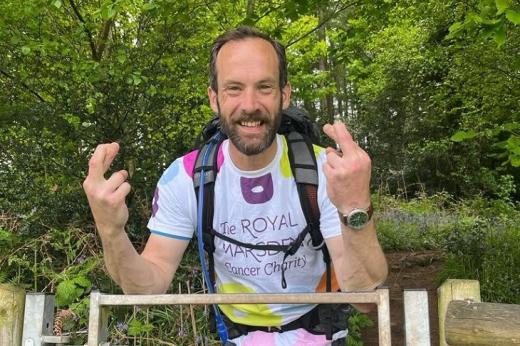 We'll be sharing more from Jon's fundraising walk from Bristol to Sutton in May. In the meantime you can find out more and sponsor him on GoFundMe.
Discover more stories of hope on our blog.