'I was diagnosed with stage 4 bowel cancer six and a half years ago and I'm still here!'
Pip shares her story about a clinical trial at The Royal Marsden that saved her life. She hopes that by sharing her experience she can help destigmatise talking about bowel cancer and give hope to others.
When Pip, a former nurse, was diagnosed with stage 4 metastatic bowel cancer in 2016, she was told her cancer couldn't be cured.
Over six years on from her diagnosis she has now been declared free of cancer, thanks to an immunotherapy trial taking place at the West Wing Research Centre. This research centre was originally funded through gifts in Wills left by our generous supporters.
"When I first got the news that I had no evidence of disease I just burst out crying"
"I never thought this would happen" says Pip, "when I first started this journey, I was told my cancer was incurable and I was probably going to die. Getting a cancer diagnosis is one of those situations that you imagine is never ever going to happen to you."
"My diagnosis came as a huge shock. At the time, I didn't know anyone in the same situation as me - you feel like you're on a tiny, isolated island. I feel like my mission now is to help destigmatise cancer and make it something that people can talk about more freely. I want to give people hope too – I was diagnosed with stage 4 metastatic bowel cancer six and a half years ago and I'm still here!"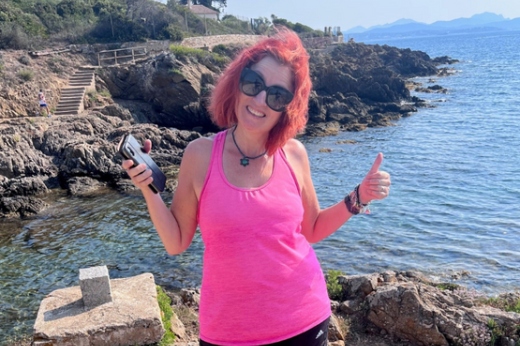 In 2016, Pip first started noticing unusual symptoms including indigestion, and pain and discomfort at the top of her stomach.  
"Before my diagnosis, I was a fit, active and healthy person. I'm a keen runner and I used to run all the time. Then, around July 2016, I started to get a lot of indigestion and pain at the top of my stomach. I had this feeling that something bad was going on in my body, I just didn't know what. I was going back and forth to the GP, but nothing really came out of it. Every time I had even a spoonful of food, I felt full. I wasn't able to eat properly for about six weeks so felt extremely weak - my family were concerned as I was losing so much weight.   
Around 3 weeks before her diagnosis, Pip experienced a change of bowel habits - one of the most common symptoms of bowel cancer.
"I stopped going to the toilet properly and instantly I knew this wasn't right, it just wasn't normal for me. The GP thought I was constipated but I knew it wasn't just down to being constipated. By this point, I was hardly drinking and eating anything at all, I felt like I was at the point of collapse."
After visiting A&E, and undergoing a CT scan, Pip was told she needed emergency surgery to unblock her bowel. She spent four days in intensive care. Following the surgery Pip was told she had stage 4 metastatic bowel cancer including nine tumours in her liver, and six weeks later she began chemotherapy.
"I thought I'd had my shot at treatment"
Pip's doctors found that her cancer had a genetic mutation which meant she was able to undergo targeted antibody treatment. Initially this helped shrink her tumours, but when Pip underwent a liver resection and hysterectomy surgery, her doctors saw that some of her tumours had started to grow again.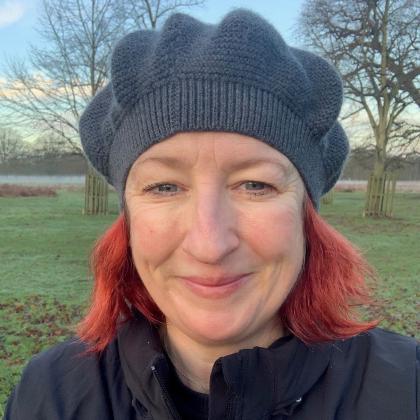 "When the treatments eventually stopped working for me in the summer of 2019, it was a dark time" says Pip. It was at that point that I really thought I was going to die - there seemed to be nothing else for me to try. When you're in that position, it's amazing what your will to live is like. You have nothing to lose - you just want more time."
"Luckily, Dr Rao, my consultant at The Royal Marsden also works in research. She said to me that she was going to try and get me on a clinical trial." 
Dr Rao found that Pip also has a rare gene defect called microsatellite instability (MSI-H), which made her eligible for an immunotherapy trial taking place at the West Wing Clinical Research Centre.  
"Having cancer is obviously a bad situation but I've been so lucky with so many elements of my journey. Having the right gene profiles to access certain treatments, it's like rolling sixes! Only about 2% of the population that have the same cancer as me also have this genetic defect which meant I could join this immunotherapy clinical trial."
"Research has ultimately saved my life."
"I started on the trial in October 2019 and received my first dose of the drug in the November. Now, I come in every six weeks to have my immunotherapy infusion at The Royal Marsden. The staff on the West Wing are lovely - they feel like my friends now as I've been going there for three and a half years. In the last year and a half my scans have shown no evidence of disease. To see the tumours decreasing in size over time and then disappear entirely - I just couldn't believe it."
"Getting onto the clinical trial and eventually being told that I had no cancer was hard to process at first. I thought I'd had my shot at treatment, I'd tried, done my best. Given how bad things were at the beginning of my journey, I never thought I'd be saying that!"
"I had to shake myself out of the survivor guilt and I threw myself back into exercise. I can now run half marathons every Sunday and I run during the week too and go swimming before work. I'm now living a normal life with my husband Alan and my fur baby Neo and it's fantastic."
"I'm no longer defined by my illness- If you saw me in the street, you'd never even know I'm being treated for cancer."
The Royal Marsden changes the lives of countless people like Pip every year. Thanks to your support, we can continue to make life saving research breakthroughs and develop new and better treatments for cancer.
Find out more about ways you can support us today.
Discover more stories of hope on our blog.