Blood test could prevent unnecessary chemotherapy in colorectal cancer patients
An innovative new trial has opened at The Royal Marsden which aims to determine whether some patients with colorectal cancer can be spared unnecessary chemotherapy and its associated side effects.
The trial – known as TRACC Part C – evaluates the use of a blood test to guide chemotherapy treatment decisions after surgery in patients with stage II or III colorectal cancer.
Currently, many of these patients are routinely offered chemotherapy after surgery to help reduce the risk of relapse. However, approximately 50% of these patients are cured with surgery alone, meaning many may be overtreated. Currently, there is not enough research for doctors to be able to clearly advise patients on whether they are likely to benefit from the chemotherapy, which can also sometimes cause debilitating and life-long side effects.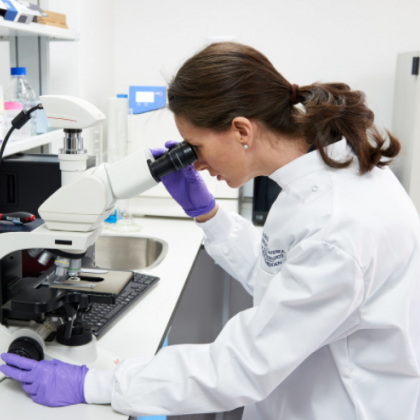 How does the trial work?
Chemotherapy works by killing microscopic cancer cells that remain after surgery. Untreated this microscopic residual disease will cause the cancer to return, most commonly within the first 2 years after surgery.
The earlier TRACC Part B study, supported by The Royal Marsden Cancer Charity, demonstrated that patients with a negative circulating tumour DNA (ctDNA) test following surgery are less likely to see their cancer return within two years, compared to those with positive results.
In the TRACC Part C trial, a blood test is carried out following surgery to detect the presence of ctDNA, which indicates residual disease. The presence or absence of ctDNA is then being used to help clinicians to tailor treatment for each individual patient following surgery. This may involve having chemotherapy, having chemotherapy in tablet form, which has fewer side effects than conventional chemotherapy, or no chemotherapy at all.
Helping offer personalised treatment
"Patients with high-risk colorectal cancer can benefit from chemotherapy after surgery but some patients will never relapse, even without chemotherapy." says Professor David Cunningham, Director of Clinical Research at The Royal Marsden and Chief Investigator for the TRACC Part C study. "This clinical trial is designed to use a blood test to identify the group of patients who need chemotherapy and those who will remain cancer free with surgery alone. The results of this trial will help tailor treatment decisions to benefit patients, as well as reduce the side effects of chemotherapy.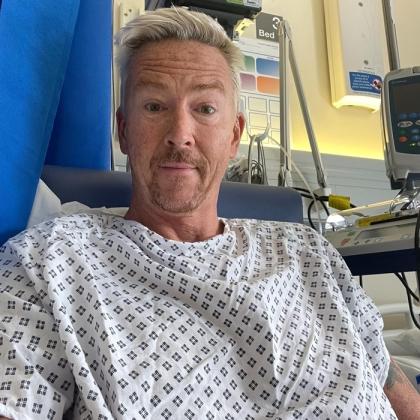 Ben's story
Royal Marsden patient Ben Cooke, 52, is a hairdresser who lives in London with his husband and two children. He was diagnosed with colon cancer in September 2022 and following surgery to remove part of his colon, he joined the TRACC Part C trial at The Royal Marsden.
As a result of receiving a negative ctDNA test result after surgery, he has been taking Capecitabine tablets for the last three months. This is form of chemotherapy has fewer side effects and can be taken at home.
Ben said: "Since starting the treatment I've felt absolutely fine. As time has gone on, I've started to feel a bit tired but only towards the end of the day. I haven't had to take a single day off work, which is amazing.
"I absolutely love my job as a hairdresser, and I split my time between working in my salon and working on photoshoots and red-carpet events. Working is my therapy and I still jump out of bed in the morning excited to go to work. Conventional chemotherapy could have put me at risk of nerve damage in my hands, which could affect my ability to do my job properly, so I'm particularly thankful that I'm not at risk of these side effects."
TRACC Part C is funded by the Efficacy and Mechanism Evaluation (EME) Programme, a Medical Research Council (MRC) and National Institute of Health Research (NIHR) partnership.
Discover more inspiring stories on our Blog