England's first Integrated Pathology Unit opens at The Royal Marsden
The new Integrated Pathology Unit (IPU) will use new technology to help diagnose cancer faster and more precisely than traditional laboratory methods and could make a significant difference to the way cancer patients are treated in the future.
The Royal Marsden and its academic research partner The Institute of Cancer Research, London have opened a new joint Integrated Pathology Unit (IPU) at The Royal Marsden, Sutton.
The Unit, which is the first of its kind in England, will enable researchers to make discoveries to develop new tests for cancer and speed up diagnosis for patients by combining pioneering digital imaging with artificial intelligence (AI).
A new frontier in cancer diagnosis and treatment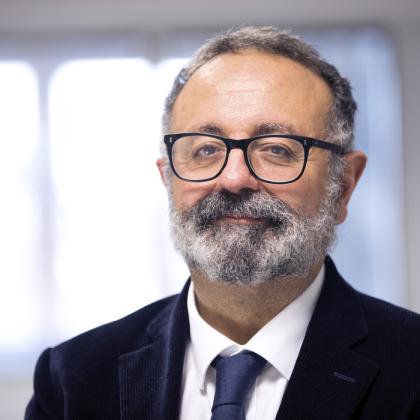 "Digital pathology is a new frontier in cancer diagnosis and treatment and represents a chance to make a significant difference to the way we understand, diagnose and treat cancer" says IPU Director Professor Manuel Salto-Tellez, Professor of Integrated Pathology at The Institute of Cancer Research, London, and Clinical Consultant at The Royal Marsden. "Our new Integrated Pathology Unit is combining state-of-the-art laboratory techniques with innovative computing tools, driven by international experts in biology, pathology and computer science."
The IPU is funded by The Royal Marsden Cancer Charity, The National Institute for Health and Care Research (NIHR) Royal Marsden and ICR Biomedical Research Centre and The Institute of Cancer Research (ICR).
What is Digital Pathology?
Pathology is one of the oldest fields of medicine and is vital in the treatment of cancer. Pathologists specialise in interpreting laboratory tests and evaluating cells, tissues and organs to diagnose disease. They can determine the precise type and severity of cancer and help recommend a treatment strategy for patients based on test results. Around the world, pathologists are starting to digitise pathology images and information so that they can be analysed using computational tools. This specialism is called digital pathology.
Pathologists working at the new Unit are already digitising tissue samples taken from patients at The Royal Marsden, as well as patients on clinical trials in cancer centres around the UK. The digital slides can be easily shared with colleagues and assessed alongside other clinical data, allowing the discovery of new levels of information that will benefit patients.
Data and machine learning
Researchers in the IPU are investigating how we can harness this raw data in exciting new ways. When combined with advances in microscopy, imaging and DNA sequencing, researchers can uncover more information about tumours than ever before. Using sophisticated tumour imaging systems, they are able to identify important information about the disease and help predict how well a patient will respond to a specific treatment.
Researchers are also using computer algorithms to measure the levels of key cancer proteins and predict a tumour's individual genetic signature, both of which can influence a patient's treatment plan. In the future, images analysed by machine learning could increase the speed at which doctors can assess if a patient's treatment is working.
Excited for the future
"The research taking place at the new Integrated Pathology Unit will help us understand cancer better, which could have a significant impact on survival rates and quality of life for cancer patients," says Professor David Cunningham, Director of Clinical Research at The Royal Marsden and Director of the NIHR Biomedical Research Centre at The Royal Marsden and the ICR.
"New research could result in pioneering tests which may help to diagnose cancer more precisely. I'm excited for what the future holds, and to see how new research discoveries may benefit cancer patients in the future."
Discover more inspiring stories on our Blog