Leading the way for young cancer patients
The world-leading Oak Paediatric and Adolescent Drug Development Unit offers one of the largest portfolios of innovative treatments in Europe thanks to support from The Royal Marsden Cancer Charity. The Unit treats young patients like William Runicles who was diagnosed with a rare brain tumour as a baby.
The Unit's ambition is to improve survival of childhood and adolescent cancer by accelerating drug development in clinical and transnational research for children and young people.
The OPDDU has grown significantly over recent years, which was partly due to a pilot molecular profiling study developed at The Royal Marsden and The Institute of Cancer Research. The study set the foundations for the Stratified Medicine Paediatrics programme, a national paediatric tumour profiling study for patients with relapsed solid tumours.
Due to the emphasis of OPDDU's work on molecular profiling, The Royal Marsden Cancer Charity funded Dr Sally George to establish stronger links between the laboratory and the clinic.
Dr George said: "There has never been a greater need to have someone with one foot in the laboratory and another in the clinic. It is an exciting time in translational development, seeing the science move into the clinical setting. I split my time between both worlds and believe some of the best research ideas come directly from patients."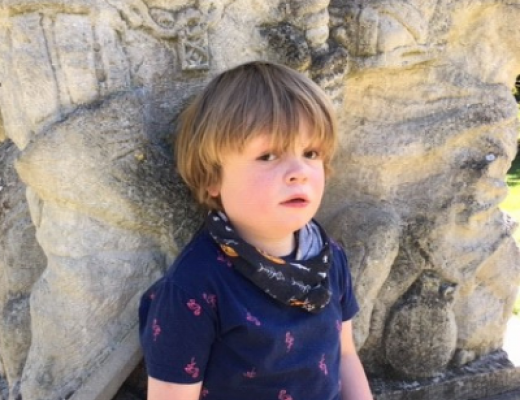 William's Story
William Runicles, now aged eight (pictured left), was diagnosed with a rare brain tumour as a baby leaving him with severe visual impairment. In 2016, after standard treatment stopped working, he was referred to The Royal Marsden's Oak Paediatric and Adolescent Drug Development Unit to take part in a three-year clinical trial.
His mum Ursula said: "We have spent so many nights in hospital with William, but thanks to the trial we haven't been an inpatient for over a year and a half. Within months of going on the trial, scans showed significant reduction in the disease, and after the introduction of a more targeted drug last year, William continues to do well. He is a happy and content little boy."
"There is a different mindset at The Royal Marsden. The team are always willing to try new things, always learning and making progress. They have not only been a huge support to the whole family, they give us hope."
Read more stories on our blog