Max's cancer recovery milestone
Nearly two years after completing treatment for a brain tumour, Max Moran will be walking The Banham Marsden March, marking an incredible milestone in his recovery.
Max, now 10, was unable to walk at all following surgery nearly three years ago. He's supporting The Royal Marsden Cancer Charity with his family to say thank you to all the incredible doctors, nurses and therapists who have helped him throughout his journey.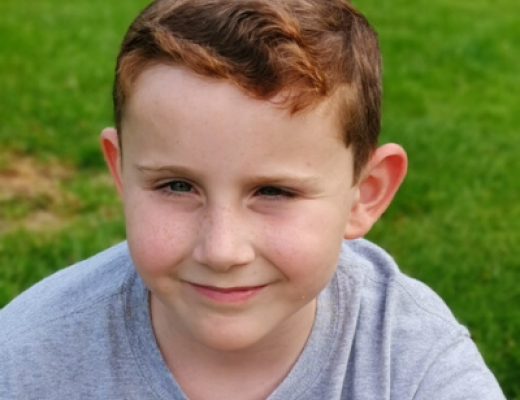 His mum Karen said:
"Max's diagnosis was completely out of the blue. He was a typical little boy, he loved riding his scooter and swimming. He'd complained of a few headaches so we took for an eye test and the optician noticed something at the back of his eye. We were referred to a consultant ophthalmologist who sent Max for an MRI scan, which is where we got the diagnosis of a brain tumour.
After an eight hour operation at St George's to remove the tumour just a week after his diagnosis, he woke up unable to sit, stand, walk, eat or talk. After intensive rehab, he started saying some words again and managed to stand with support for the first time eight weeks after his operation."
Max was then transferred to the Oak Centre for Children and Young People at The Royal Marsden to start the rest of his treatment.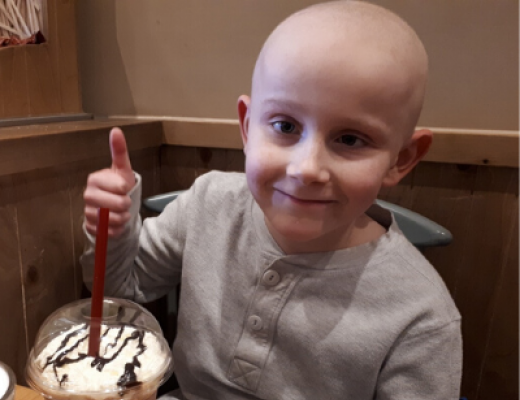 "He immediately started six weeks of daily radiotherapy before eight rounds of gruelling chemotherapy which finally ended in June 2018. He endured countless blood transfusions and spent a week in hospital with really nasty shingles. At the end of June 2018, Max's MRI scan showed 'no evidence of disease' and he got to ring the end of treatment bell - a day we will never forget!
He has just had another scan and this came back all clear which we are thrilled about; we'll be back at The Royal Marsden for scans every six months. Going back to the hospital isn't daunting, we actually look forward to being there and seeing all the staff who treated Max. They all remember his name and it feels like a home away from home."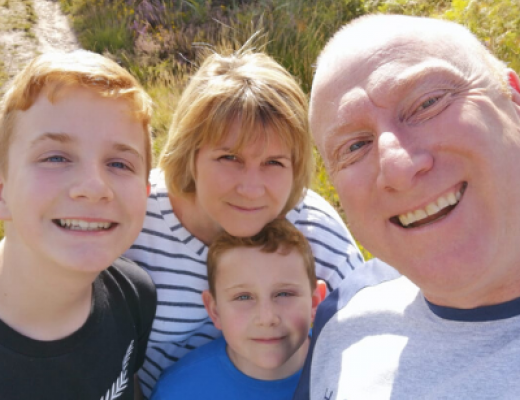 "All the staff at the hospital were amazing whilst Max was being treated, we can't praise them enough. The nurses were so incredibly patient. He was terrified of needles and cannulas and they always made him feel at ease. The play team were with him every day during his radiotherapy treatment, they were so helpful and supportive. Max loved visiting the school room while he was in for chemotherapy and the school teachers were always so welcoming and friendly. We can't thank Max's physiotherapist, Michelle, enough, she worked so hard to get Max standing and walking again so that we could come home."
Karen said:
Max has gone from strength to strength with sheer determination. He returned to school in September 2018 and is now running, riding his scooter again and very much a normal little boy. We can't wait to join everyone at The Banham Marsden March and support The Royal Marsden Cancer Charity, who support so much work, and research, in the Oak Centre for Children and Young People. Taking part and walking five miles will be a massive achievement for Max and he will be joined by friends and family who are all so proud of what he's achieved. We can't wait for what will be a very special day!
Read more stories on our blog