Psychological support for our key workers
Now, more than ever, the mental health of our staff and patients at The Royal Marsden is a priority, the charity is funding initiatives to support staff wellbeing.
With staff under increased pressure and patients facing new challenges which can have a huge impact on their mental wellbeing, The Royal Marsden Cancer Charity has agreed to fund additional psychological support to ensure all our staff and patients can get the help they need throughout the coronavirus crisis. This is just one of the ways we are supporting our staff and patients through this difficult time.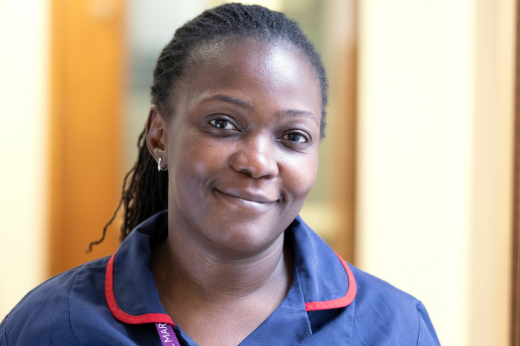 Looking after patients with cancer and coronavirus
Rose Asoro, 42, from Shenley in Hertfordshire is one of the Matrons at The Royal Marsden NHS Foundation Trust in Chelsea. Usually an oncology matron taking care of patients with cancer at the specialist hospital, Rose and her team are now looking after patients who have had, or currently have, both cancer, and Covid19.
'The virus is largely unknown, but we know people with pre existing conditions are at risk and several types of cancer treatments leave patients' immune systems supressed so they're potentially at higher risk of complications if they get Covid19.' says Rose who has been nursing for 18 years.
Rose and her team are nursing in the hardest conditions they've ever worked in. 'Part of nursing is the human touch,' says Rose. 'It's the reassuring, soothing hand on the arm to worried patients. It's being able to look them in the eye and be honest with them. The PPE wear is so important but it means we can't physically comfort our patients like we normally would and our faces are covered with masks and visors, it's not how any of us want to nurse but we know it keeps us and our patients safe.
'Patients take comfort from us and we're doing our best to give that comfort and reassurance while wearing the protective layers we need to, we can't reassure them the way we normally would though which is hard for all of us.'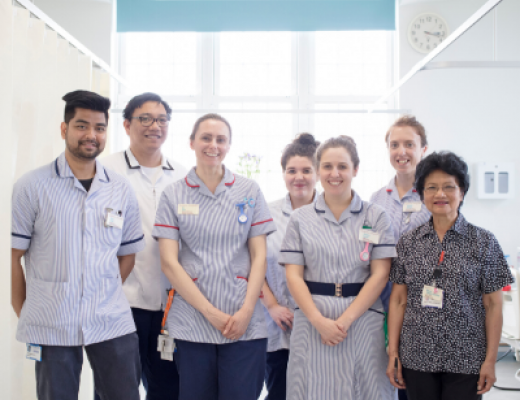 Nursing during Coronavirus
There's more than just an emotional toll to the PPE equipment though. 'Hospitals are warm places and we'd normally nurse in our scrubs or uniform and apron,' says Rose. Now we're wearing that with our PPE equipment on top. We're aching after shifts like we wouldn't normally. My nurses are craving fizzy drinks and things that give them energy because nursing in these conditions takes its toll.'
Rose says her team has access to plenty of support themselves. 'We're nursing patients with a condition that has no cure,' says Rose. There are phone lines, counsellors on hand to help us if we need to unload and I know my staff really well so I know when someone needs some time or extra support.'
Supporting the NHS during this time
With 'normal life' feeling like a long time ago, Rose says the public support is buoying her and her team a lot. 'When I drove home after a long shift last Thursday, seeing Wembley turned blue was a wonderful sight. Then I turned into my cul-de-sac and saw all my neighbours clapping and cheering for the NHS. It was a beautiful and humbling moment. Knowing we have the public support means a lot to us all. Seeing empty streets and knowing people are taking the government advice seriously means my staff and I are able to do our jobs and try and save lives.'
Rose's interview was initially carried out by The Sun.