Supporting young people through cancer - Ryan's story
In April 2021, Ryan was diagnosed with cancer at 15 years old. Here, Ryan and his mum Paula tell us how the Charity-funded mental health support they received has made all the difference for their family.
A cancer diagnosis and treatment is a difficult and life changing experience for anyone, but for children and young people it can have a long-lasting impact on their mental health and disrupt key moments in their development.
To support our young patients and their families through the big and difficult emotions of a cancer diagnosis, The Royal Marsden Cancer Charity fund the Paediatric and Teenage Psychological Support Service who provide essential support to young patients and their families.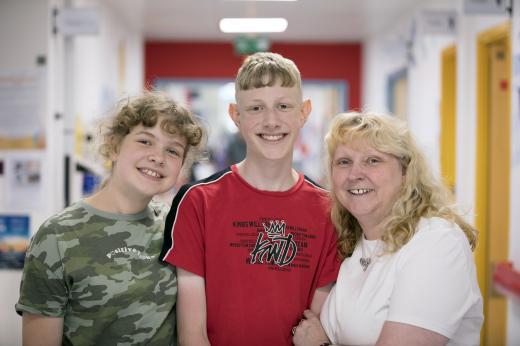 Ryan's story
"Ryan was initially diagnosed with gastroenteritis, but the pains got worse and worse," explains Ryan's mum Paula. "Around Easter 2021 we took him to hospital, and they found he has a rare condition which meant a section of his bowel had effectively eaten some of his large bowel."
Then, In April 2021, fifteen-year-old Ryan was diagnosed with non-Hodgkin's Burkitt lymphoma - a rare type of cancer that affects the immune system. He was referred to The Royal Marsden and began intensive steroids and chemotherapy treatment which involved extended stays in hospital and time off school, which Ryan found incredibly difficult. This really affected his mental health. It also put a strain on his mum Paula, who was with him throughout his treatment, and their relationship
"When I was told it was cancer, I thought it meant I was going to die. It all seemed so unfair. The treatment itself was brutal and I started having panic attacks." says Ryan. 
"Ryan was ready to give up and he needed all his strength to get through the chemotherapy." says Paula. "I had a breakdown myself. The treatment altered Ryan's behaviour and his mental health was really bad, I found it very hard to cope with."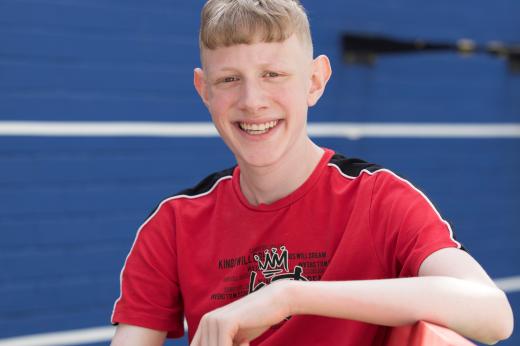 Psychological Support at The Royal Marsden
Their family were referred to the hospital's Paediatric and Teenage Psychological Support Service, which is funded by The Royal Marsden Cancer Charity. Ryan and his family were introduced to Clinical Psychologist, Dr Laurie Josephs. Laurie worked with Ryan, teaching him how to manage his panic attacks as well as providing coping mechanisms and breathing techniques. 
"A cancer diagnosis and its treatment can have a significant psychological impact on children and young people, and the experience can be very traumatic for their family too," Clinical Psychologist, Dr Laurie Josephs explains.
"The support we offer to young patients and their families allows them to reflect on the challenges they've been facing, whilst providing an outlet for the often difficult thoughts and feelings that accompany a diagnosis. We give young people and families a safe place to talk and facilitate important discussions that help families to unpick problems they've been experiencing. We also support them in developing tools to cope."
For Ryan and his family, this support has made a vital difference
"Laurie was really understanding and spoke to me like an adult, which made me feel that I was able to express myself. After the first and second sessions I felt more composed and able to talk," Ryan says. "The breathing exercises and coping strategies she taught me I still use today when I get stressed about exams or mocks. I definitely wouldn't be where I am without her."
Laurie also taught Paula cope with Ryan's behavioural changes caused by the steroid treatment. "She helped me to cope when Ryan was experiencing big and difficult emotions," says Paula, "The support she gave us was just phenomenal and it made the rest of Ryan's treatment much easier. To this day he hasn't had another panic attack."
"Laurie supported Ryan through the worst possible thing a child could go through. She was the right person at the right time for our family. I am not sure where we would be had she not been there."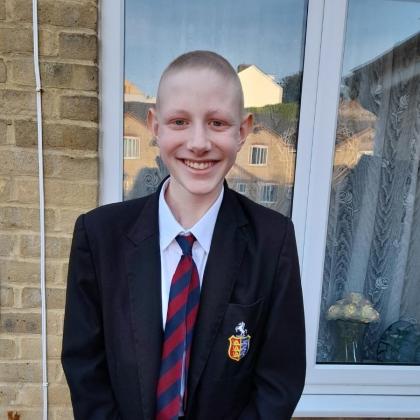 Ryan also worked with Laurie to prepare for his first day back at school. He had a lot of anxiety about losing his hair and how people would react. "I didn't have much hair because of the chemotherapy," Ryan recalls, "I was able to talk through my feelings with Laurie and came to the decision not to wear a hat."
Paula says; "Laurie also offered us lots of advice on how the school should deal with him. She was amazing. His first day back went well and in fact all the kids wanted to shave their heads too!"
In July 2021, Ryan completed his treatment in remission and rang the end of treatment bell. He has recently completed his GCSEs he has decided that when he is older, he wants to be a councillor to support young cancer patients.  
"After the experience I've had, I want to support other people in a similar situation. The doctors and nurses saved my life, but Laurie saved my mind"
Your support helps us go even further for people with cancer.
Thanks to our supporters we can fund services like the Paediatric and Teenage Psychological Support Service which provides essential support to young patients and their families at The Royal Marsden.
Find out more about ways you can support us here.
Help us go even further for people with cancer.