Supporting young people through cancer: Ryan's story
In April 2021, Ryan (15) was diagnosed with cancer. Here, Ryan's mum Paula tells us how Charity funded mental health support has made all the difference for their family.
A cancer diagnosis and treatment is a difficult and life changing experience for anyone, but for children and young people it can have a long-lasting impact on their mental health and disrupt key moments in their development.
To support our young patients and their families through the big and difficult emotions of a cancer diagnosis, The Royal Marsden Cancer Charity fund the paediatric psychological support team. The team work closely with young patients and their families throughout treatment, helping them to articulate and understand their feelings and providing essential support.
For Ryan and his family, this support made a vital difference this year.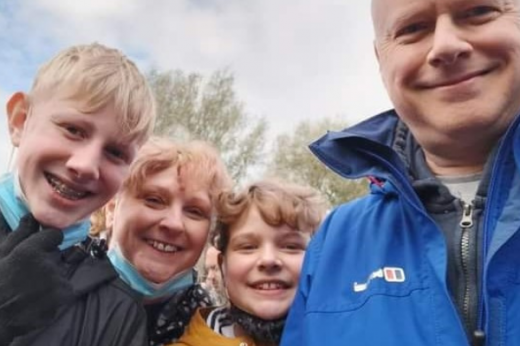 Ryan's story
In April 2021, fifteen-year-old Ryan was diagnosed with non-Hodgkin's Burkitt lymphoma. He was referred to The Royal Marsden where he began intensive steroids and chemotherapy treatment. This treatment really affected Ryan's mental health, and he began to experience panic attacks and would say that he couldn't carry on. It also put a strain on his mum Paula, who was with him throughout his treatment, and their relationship.
Paula says, "Ryan was ready to give up and he needed all his strength to get through the chemotherapy." Then, their family were referred to the paediatric psychological support team and introduced to Clinical Psychologist, Dr Laurie Josephs. Laurie worked with Ryan over seven sessions, teaching him breathing techniques and guiding him through panic attacks.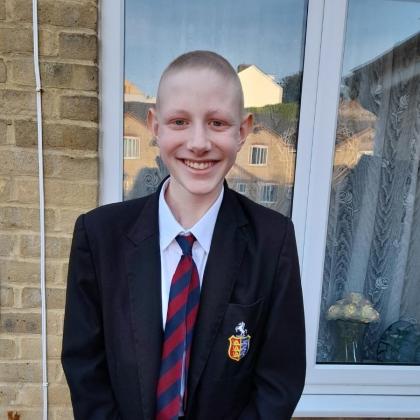 "To this day he hasn't had another panic attack," says Paula. "She also helped me to cope when Ryan was experiencing big and difficult emotions. The support she gave us was just phenomenal and it made the rest of Ryan's treatment much easier." 
Ryan also worked with Laurie to prepare for his first day back at school. He had a lot of anxiety about returning to school after losing his hair and how people would react. Paula says; "Laurie offered us lots of advice on how the school should deal with him. She was amazing. His first day back went well and in fact all the kids wanted to shave their heads too!"  
Ryan completed his treatment in July 2021 in remission and rang the end of treatment bell. He is now getting ready to do his GCSEs and when he is older, he has decided he wants to be a councillor to support young cancer patients.  For the family, Dr Laurie's support made all the difference. Paula says, "Laurie supported Ryan through the worst possible thing a child could go through. She was the right person at the right time for our family. I am not sure where we would be had she not been there."