Using artificial intelligence to predict lung cancer recurrence
A groundbreaking study led by researchers at The Royal Marsden an 'exciting first step' that could revolutionise the early detection of tumour regrowth in lung cancer patients.
In a world first, doctors and researchers have shown that artificial intelligence (AI) can accurately predict the likelihood of a patient's cancer returning through a new study, supported by The Royal Marsden Cancer Charity.
The OCTAPUS-AI study compared different machine learning models using anonymised clinical data from over 600 non-small cell lung cancer (NSCLC) patients to determine which could most accurately identify patients at risk of cancer recurrence, following curative radiotherapy. Machine learning is a type of AI that allows software to automatically predict outcomes.
The research was led by Royal Marsden researchers in collaboration with The Institute of Cancer Research, London and Imperial College, London.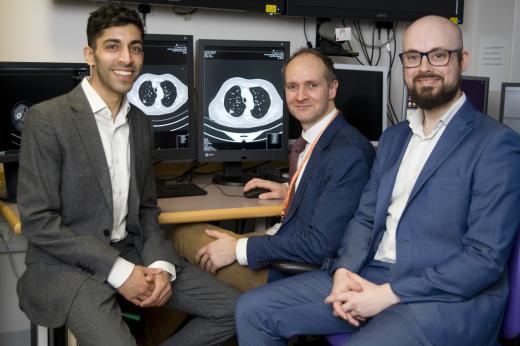 Personalising care for people with cancer
The study's results suggest this tool could be used to help personalise and therefore improve the monitoring of patients following treatment, based on their risk. This could lead to recurrence being detected earlier in high-risk patients, while for those with a low risk of recurrence, it could mean fewer follow-up scans and hospital visits.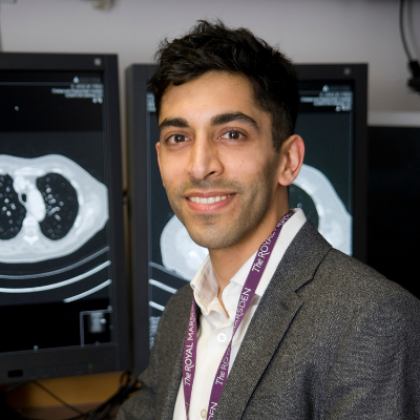 "Right now, there is no set framework for the surveillance of this patient group" said study lead Dr Sumeet Hindocha, a Clinical Oncology Specialist Registrar at The Royal Marsden. "This study is an exciting first step towards developing a model to help guide the monitoring of patients based on their individual risk of cancer recurrence. Next, we'll test our models using imaging data alone and in combination with clinical data."
Dr Richard Lee, Consultant Physician in Respiratory Medicine and Early Diagnosis at The Royal Marsden, whose role is funded by The Royal Marsden Cancer Charity, is chief investigator for the OCTAPUS-AI study.
He said: "This is an important step forward in being able to use AI to understand which patients are at highest risk of cancer recurrence, and to detect this relapse sooner so that re-treatment can be more effective. Relapse is also a key source of anxiety for patients. Reducing the number of scans needed in this setting can be helpful, and also reduce radiation exposure, hospital visits, and make more efficient use of valuable NHS resources.
"This study is an example of the vital scientific clinical research we're undertaking in the Early Diagnosis and Detection Centre at The Royal Marsden. Through this work, we hope to push boundaries to improve the care of cancer patients, to help them live longer, and reduce the impact the disease has on their lives. We are grateful to our patients and the Charity's supporters who have made this research possible."
Help us fund innovative research
The Royal Marsden Cancer Charity is the largest charitable funder of research at The Royal Marsden.  
The pace of cancer research moves quickly, so it's vital that The Royal Marsden's clinicians and researchers are able to stay at the forefront of the latest advances. Thanks to our supporters we are able to fund pioneering cancer research that will help transform treatment and care for people with cancer, now and long into the future.
Learn more about ways you can support us
Discover more inspiring stories on our blog