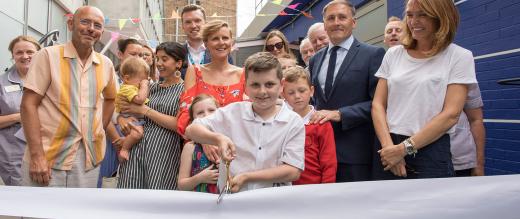 Activity garden for young cancer patients
Last month saw the opening of a new multi-purpose activity garden at The Royal Marsden's Oak Centre for Children and Young People.
We are very thankful to supporters of The Royal Marsden Cancer Charity – PANDORA UK and Emily Ash Trust – for their generous funds which has enabled us to transform the area.
Taking into account the varying needs of children whilst in treatment, the concept for the space was created by renowned British designers, Hemingway Design, and has been split to create a multitude of activity areas, including an outdoor cinema screen, exercise equipment, an interactive game, and hanging hammock 'pods'.
For patients and their families the area will provide respite from the wards and somewhere to relax in a peaceful environment.
Carly Snowball, Clinical Nurse Director for Children and Young People's Cancer services at The Royal Marsden says: "We recognise that it is a particularly difficult time – not only for young patients but also for their families. It's really important that in addition to our clinical responsibilities we look at the holistic needs of families."
Nine-year-old former patient, Lewis Houghton, cut a ribbon with representatives from The Royal Marsden Cancer Charity and project partners to officially mark its opening. Lewis was treated at The Oak Centre for Children and Young People in 2015, after being diagnosed with stage 4 Burkitt's lymphoma. Thankfully, Lewis has been in remission for three years and is living life to the full.
Your support means The Royal Marsden Cancer Charity can fund facilities that improve young cancer patients' well-being.