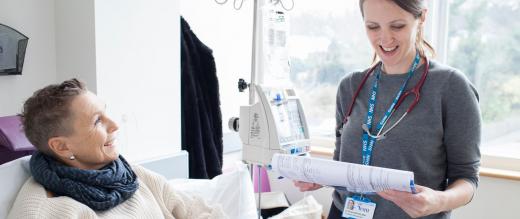 Advances in treating gynaecological cancers
Thanks to new advances, The Royal Marsden is successfully treating gynaecological cancers in more patients than ever before. Support from our generous donors, means we can research new treatments and train the next generation of surgeons on groundbreaking techniques in robotic surgery. 
The Gynaecology unit at The Royal Marsden takes a multidisciplinary approach to treating patients, with an expert team including surgeons, medical and clinical oncologists, pathologists, radiologists and nurses. 
The department has seen over 3500 patients since 2016 and is leading the way in how we treat gynaecological cancers. The support of the charity means we can invest in training surgeons in robotic gynaecology surgery, funding the Robotic Sugery Fellowship and more recently our unique Robotic Nursing Fellowship programme. To date, gynaecology our surgeons have carried out more than 700 robotically assisted operations. 
As well as pioneering surgery, we are also researching new drug treatments and funding drug trials for gynaelogical cancers thanks to the support of organisations like the Lady Garden foundation. In order to development new treatments that will support not only patients at The Royal Marsden but all over the UK and the world.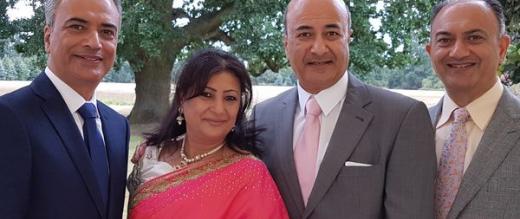 Drug improves the survival of women with ovarian cancer 
A trial carried out at The Royal Marsden and led by Dr Susana Banerjee this year was made available through the Cancer Drugs Fund for women diagnosed with BRCA-mutated advanced ovarian cancer. The new drug olaparib has been shown extend progression-free survival for these women by around three years. 
Preeti Dudakia, was only 47 when she was diagnosed with stage three ovarian cancer. After discovering the cancer had spread to her abdomen, she had a full abdominal hysterectomy, followed by six cycles of chemotherapy at The Royal Marsden.
She says: "My mum was diagnosed with ovarian cancer at the age of 60. Because of my family history the genetics team at The Royal Marsden recommended I try the SOLO-1 trial. I had monthly treatment for two years and now I'm in remission. Touch wood, the cancer isn't coming back.
"Since my diagnosis five years ago, there have been some really rapid advances in treatment for ovarian cancer, and clinical trials like SOLO-1 are a crucial part of this. 
Preeti is took part in The Banham Marsden March last year as a way to say thank you to the hospital.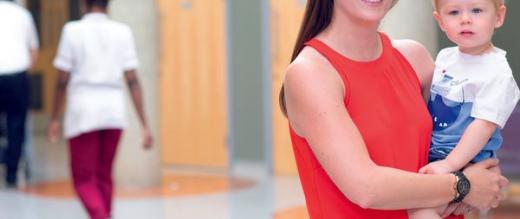 The importance of early diagnosis and treatment
Natalie Hickton was just 32 when she was given the devastating news that she had cervical cancer, "Thankfully I was one of the lucky ones; we caught it relatively early," she says.
"Just a few years before my diagnosis, my only option would have been a complete hysterectomy," she says. "But, thanks to the amazing research and technology at The Royal Marsden, I was able to avoid having this procedure. Importantly, for me and my husband, this meant we could still try for children and and I am now lucky to have two beautiful boys: Oliver and Joshua"
Improving recovery with robotic surgery
Using the da Vinci surgical robot's 3D magnification, the surgeons were able to see Natalie's cancer in much closer detail. This is particularly important for early cervical cancer patients, as it's easier for surgeons to save as much healthy tissue as possible, as well as to avoid damaging any nerves in the pelvis, which could have a detrimental impact on a patient's quality of life.
Natalie was discharged one night after her operation and given the all-clear just four months after her diagnosis.