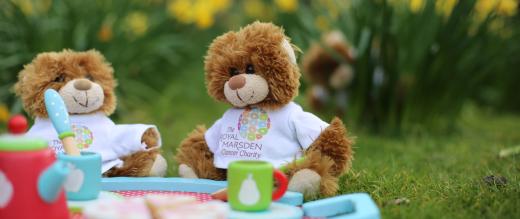 The bear necessities
We're always thinking of ways to make our patients' experiences the best that they can be, that's why we're giving a teddy bear to every young inpatient admitted at the Oak Centre for Children and Young People. And we had a special Teddy Bear's Picnic to celebrate! 
Forget about your worries and your strife
At The Royal Marsden Cancer Charity, we came up with the idea of giving one of our teddy bears to every young inpatient in our Oak Centre for Children and Young People.
We're counting on these top-notch teds helping our young inpatients to forget their worries. Giving a child a bear to cuddle at such a challenging time can really lift their spirits. And we also know that being able to play can be really therapeutic for any very young person undergoing cancer treatment so our fabulous team of Play Specialists are always at the Oak Centre to help make this happen. 
At such a challenging time in their lives, it is very important that our young patients receive the best treatment and care, and that their psychological needs are met. Play can have such a positive effect on the child and their overall experience
That's why a bear can rest at ease
There are so many ways in which your support can help improve the patient experience. A gift to The Royal Marsden Cancer Charity can make a real difference to the lives of those affected by cancer.
Picnic time for Teddy Bears
Our young inpatients and their families also came to a special Teddy Bears' Picnic at the Oak Centre for Children and Young People to celebrate this exciting initiative.
The Teddy Bears' Picnic was a fabulous day of fun at the hospital - the play room was transformed into a picnic scene with a feast fit for a bear... or little cubs. We had balloons, prizes, food, songs - and the children even got to meet Snow White!
Play specialist Claire Riddell says:
It's thanks to the charity that we can do nice things for the children like these parties and other fun things to make their time here as stress-free as possible.
The bare necessities of life will come to you
And maybe try a few
You can get your own Marsden Teddy Bear - or buy one for a special person - by visiting our shop