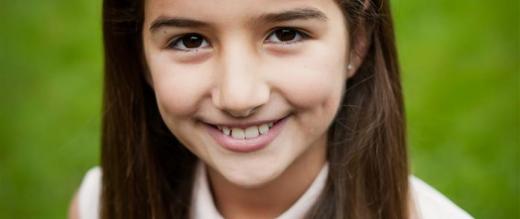 Birthday wish comes true
Rather than asking for birthday presents for her tenth birthday, Elena Deilamy asked for donations to The Royal Marsden Cancer Charity – and raised over £1,000.
Elena decided that she'd like donations to help us continue to care for children with cancer.
A birthday wish
While planning her tenth birthday celebrations, Elena asked for donations instead of presents to help raise money for our Oak Centre for Children and Young People.
Her friend's seven-year-old sister, Isabella, has leukaemia and is being cared for by our team at the centre.
Elena's goal was to raise £300 but thanks to her friends and family, she ended up raising £1,100. "I hope the money will help other children with leukaemia," she says.
This is such amazing support from one of our youngest donors. Thanks to Elena, other children at our centre will benefit from her generosity.
Caring for children with cancer
The Oak Centre for Children and Young People is dedicated to treating children and young people with cancer, from the ages of one to 24, at our hospital in Sutton.
As well as providing treatment, including chemotherapy and stem cell transplants, the centre has a playroom, therapy rooms, chill-out zones, and school and study rooms.
It is also home to one of the largest drug development programmes for childhood cancer, offering early access to trials of new cancer drugs.
Every year we treat nearly
600 children
as inpatients at our
Oak Centre for Children and Young People
More presents please!
Why not join Elena and celebrate a big birthday with special occasion giving?
We'll help you set up a unique web page, where you can ask for donations.
We can also send you donation cards to pop in the post with your invitations, plus balloons, banners and posters for the party itself.
To get started, give us a call on 020 7808 2233 or drop us a line. 
Share the celebration
If you've been inspired by Elena and would like to mark your own special occasion with a gift, why not make a donation today.