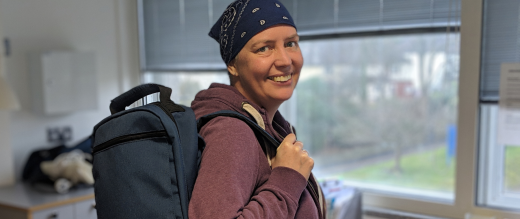 Haematology patients are regaining freedom thanks to Charity supporters
Patients with blood cancers, who typically spend long periods of time in hospital, are now able to receive treatment at home, thanks to 20 new 'chemo backpacks'.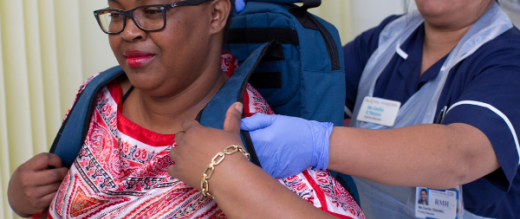 Funded by a generous donation from the Worshipful Company of Cordwainers, Chemotherapy Ambulatory Delivery Device (CADD) pumps can be taken home in specially designed rucksacks so that patients don't have to stay in hospital. The pumps can also be carried in a patient's own bag if they prefer, and are set by nursing staff to deliver the treatment for specified periods at certain times of the day.
Philippa Constantine (above), 40, from Wimbledon, has had two cycles of chemotherapy via a backpack and says it helped her to feel like herself again: "I was in hospital almost every day for six months, from when I was diagnosed with Acute Myeloid Leukaemia (AML) in June 2018 until November. I was an in-patient for a long time between The Royal Marsden and St. George's, and as great as the care is, the nurses on Bud Flanagan Unit  at The Royal Marsden knew I'd give anything to get out of hospital.
"They allowed me to have my third cycle of chemotherapy via the backpacks. I actually used my own rucksack, and the tubes connecting the treatment into my arm were all under my clothes so I really got to feel a sense of normality, and that I blended in with everyone else going about their everyday lives. I met friends for dinner, went out for coffee, went to watch fireworks on bonfire night and went shopping. It was exactly what I needed and really helped take my mind off what I was going through. I've since had my fourth cycle with a chemo backpack too."
The backpacks can also be used to allow patients receiving bone marrow or stem cell transplants to complete their antibiotics at home. They also mean that beds are freed up for haematology patients who really need to be cared for in hospital overnight.
Whether it's a young patient who wants to get out and see her friends and enjoy a little of what is normal to him or her, or a parent keen to get home to their children. The chemo backpacks give patients who otherwise spend long periods of time admitted in hospital a sense of freedom and independence that cancer has taken away from them.