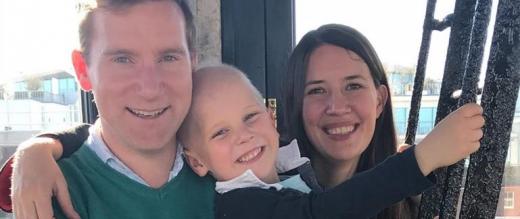 Harry's Giant Pledge
In June 2021, two years after Harry passed away, James and Charlotte Shaw reached their fundraising target of £500,000.
Raising £500,000
The money raised by the family and their supporters will fund a three-year research collaboration between The Royal Marsden NHS Foundation Trust and its academic partner, The Institute of Cancer Research, London. The joint research project will focus on combining DNA-damaging agents with radiotherapy for paediatric sarcoma patients.
James Shaw said: "We set up Harry's Giant Pledge because although we couldn't save Harry, we were determined to help the Harrys of the future. We knew something good must come from what has happened and only more research into this terrible disease could do that. 
"We are so grateful to our friends, family and supporters who have helped us achieve our target by doing a whole host of fundraising events from marathons, ultra-marathons, bake sales and treks."
Antonia Dalmahoy, Managing Director of The Royal Marsden Cancer Charity, said: "Congratulations to James and Charlotte for a truly remarkable achievement in reaching their £500,000 target. They've inspired so much support over the two years and their efforts will fund vital research into paediatric sarcoma, ensuring a lasting legacy to Harry."
Dr Henry Mandeville, Consultant Paediatric Clinical Oncologist at The Royal Marsden, said: "We are immensely grateful to James and Charlotte for their amazing dedication, drive and combined efforts in fundraising during this very difficult time.
"The projects they have funded will help us identify drugs that sensitise Ewing Sarcoma and other paediatric sarcoma cells to radiotherapy, and provide evidence to help us deliver more effective targeted treatments for more children like Harry in the future."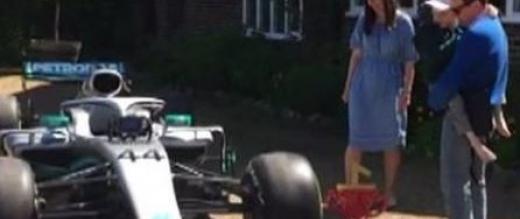 Harry's story
Harry was diagnosed with cancer on 2 August 2018 when a routine scan on a small lump showed a tumour the size of a large baked potato inside Harry's right chest, he had Ewing's Sarcoma; a rare bone cancer. Harry was 4.  In the space of a few minutes on that hot sunny afternoon the Shaw Family's life was changed forever.
Harry's parents, Charlotte and James, set up Harry's Giant Pledge to raise money for The Royal Marsden Cancer Charity. Their aim is to raise money for research into Ewing's Sarcoma and other childhood cancers to ensure children like Harry have a better chance of surviving. 
On 29 April 2019 tragically five-year-old Harry Shaw was given 1 week to live after a 9 month battle against Ewing's Sarcoma. He and his family have raised over £100,000 to support research into children's cancer.  
Harry's dad James says:
One of Harry's favourite expressions during chemotherapy was: 'Let's just get it done'. In honour of Harry 'let's just get it done' spirit let's raise some money to beat this awful disease and give future children and their families hope.
Donate to Harry's Giant Pledge
You can support this incredible fundraising effort by making a donation today.
We can't let Harry die without doing something to try and ensure other little Harrys don't go through the same thing.