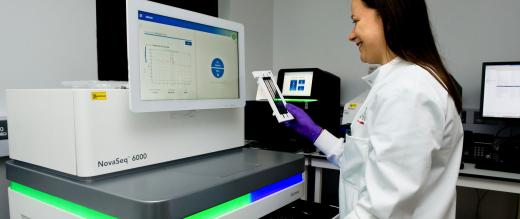 How does DNA sequencing help us to treat cancer?
Q&A with Mike Hubank, Joint Head of Clinical Genomics
What is DNA sequencing?
DNA sequencing is helping us unravel the mystery of how our genes control cancer, so that we can develop better tests and treatments.  If the particular cancer‑causing mutations in a patient's DNA are known, it means that treatment can be personalised to target those mutations. 
What is the NovaSeq?
Thanks to a generous donation from the Denise Coates Foundation to The Royal Marsden Cancer Charity, The Royal Marsden has recently invested in the latest DNA sequencing machine, the next generation NovaSeq 6000. The NovaSeq is capable of sequencing six trillion bases of DNA in a single run, and can simultaneously search for cancer-causing variants in 200 genes from over 200 hundred patients, all in less than a week. 
What difference will the NovaSeq make to patients?
The NovaSeq will help us transform the diagnosis and treatment of cancer for so many more patients, both now and in the future.  Genomic medicine has enormous potential to save lives. The NovaSeq will help us to develop new personalised treatments based on the genetic make-up of individuals' cancers, meaning more effective treatments with fewer side-effects.
You can find out more about how the NovaSeq 6000 works by watching our video 
How does the NovaSeq 6000 work?