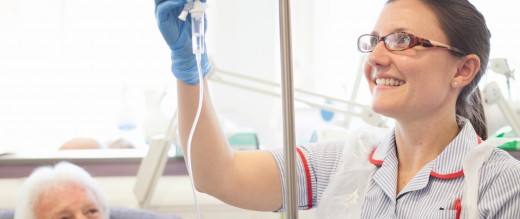 Leading the way in blood cancer research
At The Royal Marsden, our Haemato-oncology Unit diagnoses, treats and conducts research into blood cancers in adults and children. Running up to 50 clinical trials at a time, it is one of the largest centres of its kind in Europe.
At The Royal Marsden we have one of the largest blood cancer research portfolios in the country, with up to 50 clinical trials running at any one time for patients with multiple myeloma, leukaemia and lymphoma. We also have one of the largest stem cell transplant programmes in the UK.
And recently, the way we treat patients has been completely transformed by advanced diagnosis, innovative scanning techniques and groundbreaking drug treatments. It's an exciting time for haemato-oncology.
Thanks to supporters of The Royal Marsden Cancer Charity, we've been able to invest in new facilities and equipment to drive this valuable work forward.
Breakthroughs in therapy – with novel antibodies and targeted drugs – have improved outcomes and quality of life for patients and in some cases, are included in standard treatment across the UK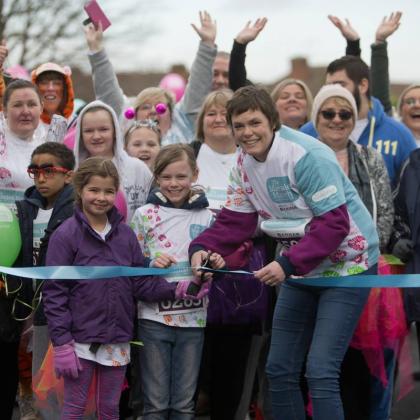 "The doctors and nurses gave me endless encouragement and phenomenal care"
Joanna Jones was diagnosed with leukaemia in November 2016 and admitted to The Royal Marsden.
It was a huge shock for me, my husband, our two daughters, and our family and friends. The intensive treatment took 12 months. I spent four as an inpatient on Bud Flanagan Ward, either receiving chemotherapy or being treated for various infections. The rest of the time I've been visiting outpatients at least weekly. The doctors and nurses on the ward got me through some terrifying times with their endless encouragement and phenomenal care.

On the day of The Marsden March in 2017, I watched through the window of Bud Flanagan Ward as 21 of my friends and family crossed the finish line to thank The Royal Marsden for saving my life. This year, I was proud to cut the ribbon for the five-mile walk and cross the finish line myself.
At the forefront of diagnosis
At the Centre for Molecular Pathology we operate a specialised laboratory service, diagnosing blood cancers in one of the leading units of its kind in the UK.
This service allows our team to examine samples from the whole range of more than 70 blood cancer types, and provides the basis for the research programme in haemato-oncology. With this technology and expertise all in one place, an integrated approach means we can provide a quick, accurate diagnosis.
We are now hoping to speed up the diagnosis of different types of leukaemia and lymphoma by looking at abnormalities in the DNA and assessing the results of treatments using a karyotype machine.
Can you help us diagnose blood cancers?
Now we need your help to raise £55,000 to buy a karyotype machine so our scientists can diagnose different types of leukaemia and lymphoma more quickly, and understand how well patients respond to treatment.
8,000+
liquid samples from patients are tested in our Centre for Molecular Pathology every year
Stem cell success
Stem cell transplantation can successfully cure blood cancers but treatment can be intensive, involving high doses of chemo and even whole-body radiotherapy. This kills the stem cells in bone marrow which need replacing through transplantation.
We perform more than 240 such transplants every year. Our team ensures the closest possible donor match - from donor registers, siblings, the patient's own stem cells, or stem cells from umbilical cord donors. "Success relies on the speed of finding a good-quality matched donor" says Dr Potter.
Exploring ways to diagnose and treat blood cancers and learning how patients respond to therapy is crucial to furthering our pioneering haemato-oncology work.