Mavis's story
This lung cancer awareness month we're sharing Mavis Nye's story of her mesothelioma experience, and highlighting the progress that has been made in lung cancer research over the last 10 years.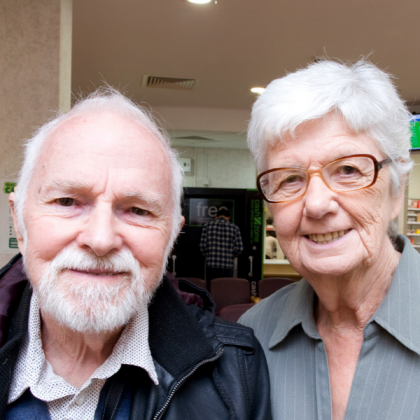 Mesothelioma, a rare cancer that usually develops in the lining of the lung, is caused by exposure to asbestos. In Mavis's case she could track this back more than 50 years to when she met her husband, Ray. As inseparable teenagers they would meet on Ray's lunch breaks and after work, when his overalls from his job in the shipyards were covered in asbestos. When they got married, Mavis would wash Ray's overalls. The public hadn't been warned of the risks associated with asbestos and it was only banned many years later.
Mavis was diagnosed with the disease in 2009 and began chemotherapy which, although it kept her alive, also made her very sick. Four years after diagnosis, Mavis was told about a drug trial at The Royal Marsden investigating the immunotherapy drug pembrolizumab for mesothelioma.
To everyone's astonishment, the drug shrank Mavis's tumours and after two years of treatment, she showed a 'complete response'- in other words she went into remission with no visible signs of cancer in her body.
I became the first patient with mesothelioma to go into remission, and it felt like a miracle, I also felt well, and went on a mission to raise awareness of the dangers of asbestos.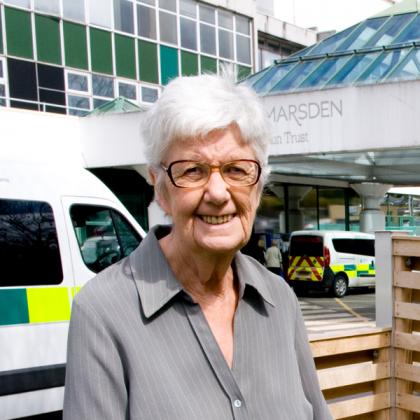 Through research at The Royal Marsden and elsewhere, pembrolizumab has been approved to treat non-small cell lung cancer, melanoma and head and neck squamous cell cancer, among other cancers. As with other immunotherapy drugs, it harnesses the body's immune system to attack cancer cells, and tends to cause fewer side effects than chemotherapy.
In July last year Mavis developed new tumours and became the first mesothelioma patient to receive a 'top-up' of pembrolizumab. When a scan showed her tumours weren't responding, she joined a new Phase I trial which involves adding a drug called guadecitabine, which is thought to make tumours more susceptible to pembrozilumab. Her last scan was stable.
Mavis says
10 years ago I thought I had months left to live. Nobody expected me to go into remission in the first place, so nobody knows what's going to happen this time. There is no rule book- I am the rule book. I'm happy to be the guinea pig because it is research that has kept me alive all these years and it's research that will help other people in the future.
Supporters of The Royal Marsden Cancer Charity are playing a key role in the progress being made with lung cancer treatments by funding research nurses, who enable the hospital to run clinical trials, and specialist consultant posts and academic clinical fellows, who are carrying out pioneering research.
We have completely changed the way we treat lung cancer. 10 years ago a diagnosis of lung cancer, including mesothelioma, was very sad news. Now we have more treatment options open to us. The next steps with mesothelioma are to identify the biological signals that indicate which patients are likely to benefit from immunotherapy and why.