Changing the way we treat lung cancer
Lung cancer is the third most common in the UK.  Changes in the way we treat it mean that patients now survive longer and have a better quality of life.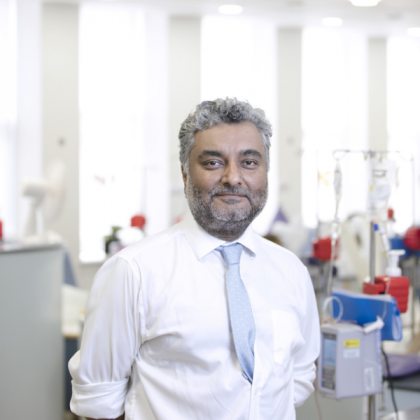 More than 46,000 people are diagnosed with lung cancer in the UK every year.
For early-stage lung cancer, surgery can remove the tumour and offer the best hope for a cure. But often, the disease shows no signs or symptoms until it has spread. In the past, this meant most patients had a poor prognosis and treatments were mostly palliative.
However, the past 10 years have seen a dramatic shift in the way patients with lung cancer are treated. There's now a sense of optimism at The Royal Marsden around future treatment. Professor Sanjay Popat (left), Consultant Medical Oncologist, says:
We've completely changed the way we treat lung cancer. For some patients, we can now manage it as we would a chronic disease. Patients are surviving longer, and with a better quality of life.
Supporters of The Royal Marsden Cancer Charity are playing a key role in this progress by funding research nurses, who enable the hospital to run clinical trials, and specialist consultant posts and academic clinical fellows, who are carrying out pioneering research.
Harnessing the immune system
Following research that included important studies at The Royal Marsden, the immunotherapy drug pembrolizumab was approved in 2016 for use on the NHS to treat lung cancer patients, followed by nivolumab in 2017.
These drugs, which harness the body's immune system to attack cancer cells, lead to patients surviving longer and cause fewer side effects compared with chemotherapy. The next stage of immunotherapy research is investigating how these drugs work in combination with other treatments.
For example, The Royal Marsden is investigating how combining radiotherapy with pembrolizumab can make the drug more effective, and is exploring the benefit of prescribing it after radiotherapy for patients with non-small cell lung cancer.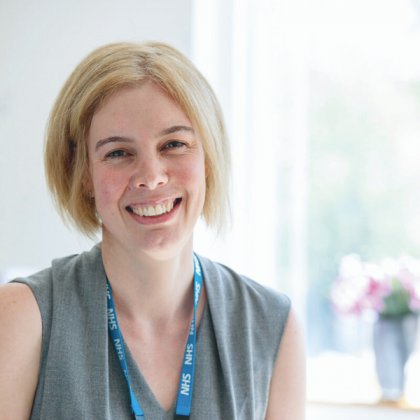 Targeted drug therapies
The past decade has also heralded the era of targeted drugs. These target genetic mutations in tumours in order to stop cancer at a molecular level.
Professor Popat says: "We look at a sample of tumour cells to see which genetic mutations they have and which ones are likely to drive tumour growth, then we match them to a drug that targets this mutation."
Targeted drugs have meant that these patients survive three or four times longer and have an improved quality of life. Research is now under way to compare the effectiveness of targeted drugs and, under Dr Anna Minchom (right), a Consultant Medical Oncologist funded by the Charity, to identify other genetic markers that could be targeted with drugs.
Dr Minchom is running a number of early-phase trials involving experimental drugs in the hospital's Oak Foundation Drug Development Unit. She says: "We've made great progress in treating the disease in recent years, but we need to develop new treatments for patients in whom existing drugs no longer work and for those with types of lung cancer that are difficult to treat."
We've made great progress, but we need to develop new treatments for patients with hard to treat lung cancer.