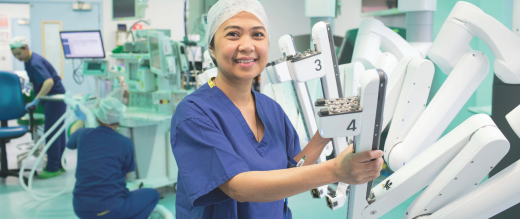 Meet our new Nursing Fellow
The UK's first Robotic Nursing Fellowship, funded by supporters of The Royal Marsden Cancer Charity, is now underway.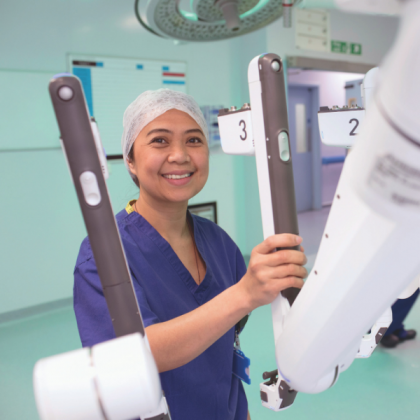 Meet Marie Taniacao, Royal Marsden Theatre Scrub Nurse and the first Fellow to join the programme
What is the Robotic Nursing Fellowship?
The Royal Marsden has the largest and most comprehensive robotic surgery programme in the UK. Our surgeons are pioneering new techniques using da Vinci Xi robots which, compared with open surgery, are much less invasive. For patients this means less pain, less scarring, faster recoveries and improved patient experience.
The Robotic Nursing Fellowship is designed to equip experienced and qualified theatre nurses like me with the advanced knowledge and skills required not only to assist surgeons during robotic operations but in other surgical specialties too. After completing the training, which is accredited by the Royal College of Surgeons, I will gain a Masters degree in Surgical Care Practice. This will mean I will have a similar level of responsibility in theatre to that of a junior doctor.
After my fellowship is complete, I will become a Surgical Care Practitioner (SCP) at The Royal Marsden. In collaboration with other SCPs, I plan to create a training hub for nurses and other healthcare professionals who want to specialise in robotic surgery.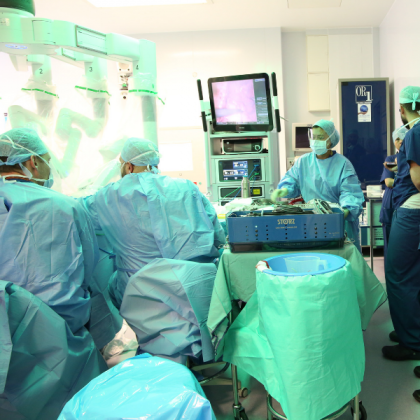 How will the Fellowship make a difference?
In robotic surgery, there are more opportunities for nurses to assist surgeons than in traditional operations where everything centres on the surgeon using his or her hands. For example, we can help to insert the robotic instruments into the patient and switch the instruments around; we can clean the end of the camera so that the surgeon has clear vision; and we can remove specimens from the abdomen.
Training nurses in this way will ensure their skills can match the evolving skills of robotic surgeons and will future-proof the nursing workforce to meet the demands of increasing numbers of robotic operations.
How does it feel to be the first Fellow?
I'm so excited,  I'm extremely grateful to Charity supporters for this opportunity and I feel very privileged.
The Fellowship will place me and all future robotic nursing fellows in the best possible position to ensure our patients receive the highest standard of care during robotic surgery.