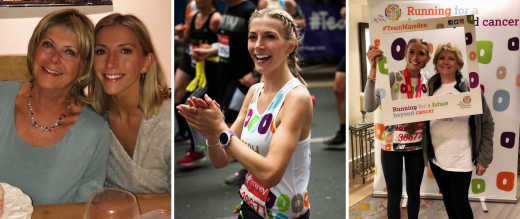 The Royal Marsden has given my mum her life back
Stephanie Powter ran the Virgin Money London Marathon for The Royal Marsden Cancer Charity this year after her mum, Christine, made a 'miraculous' recovery from stage 4 bowel cancer thanks to a clinical trial at The Royal Marsden.
Christine first started to feel unwell in June 2017. She thought this was down to food poisoning but after feeling ill for a number of weeks and losing lots of weight she was referred to her local hospital. A series of scans and tests revealed she had  stage 4 small bowel cancer, which had also spread to her peritoneum.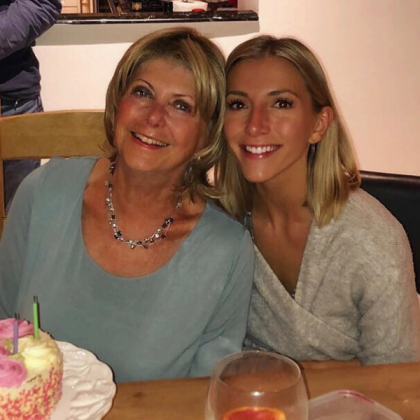 Stephanie says: "Mum was told that her cancer was terminal and that the average life expectancy for this type of cancer is around three years. She had surgery to remove the primary tumour and chemotherapy, but after less than one year, in April 2018, we found out the chemotherapy wasn't working and the cancer was progressing.  Then we heard about the trial at The Royal Marsden."
The trial, called TSR-042, is investigating the benefits of immunotherapy, which works by helping the immune system recognise and attack cancer cells, for patients with certain secondary cancers and those with a specific genetic mutation called microsatellite instability (MSI).
Genetic testing discovered that Christine had the relevant genetic flaw to join the trial. "Mum got such a good sense of stability and reassurance from the doctors and nurses and could see how state of the art this hospital was. There was finally a glimmer of hope."
Christine was admitted as an inpatient in July and started immunotherapy treatment. "The immunotherapy made an immediate and noticeable improvement to Mum's health," Stephanie says. "It also had far fewer side effects than the chemotherapy she'd been on, and she went from being on intravenous food for months, to being able to eat normally again and after two months in hospital she was allowed home."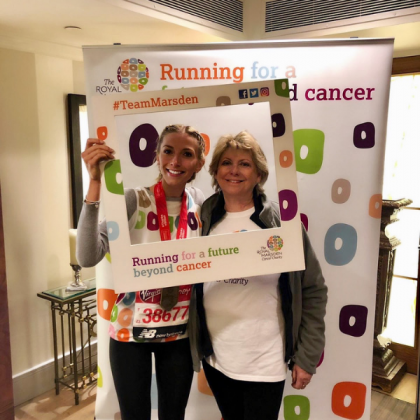 "She had the treatment every six weeks and then in October she had the first scan since the start of the trial to review her cancer. Amazingly it showed that there had been a dramatic reduction in the visible cancer and a considerable restoration of the health of her digestive system.
By December, scans showed no signs of visible cancer. These results massively exceeded any expectations we had. For the first time since she was diagnosed we had real hope.
I felt like I wanted to do everything I could to give back to the hospital who gave us our mum back. I always walked past The Royal Marsden Cancer Charity offices when coming to the hospital with Mum and I've always wanted to do the London Marathon so I signed up and raised over £8,500!
Mum was well enough to be there on the day cheering me on, and meet me at the finish line. It was all very emotional. I absolutely loved every minute of it. It was the best experience I have ever had and doing it for The Royal Marsden Cancer Charity meant so much to me and it felt so special. I would do it all over again in a heartbeat. My family and I will be forever grateful to The Royal Marsden for what they have done for my mum.
Mum still shows no visible signs of cancer and we're so happy she has her life back."
I never expected to get better, never mind to have my quality of life back. I had assumed I would never eat again and would be fed intravenously for as long as I lived. When I started being able to eat it was such a huge milestone. When Steph said she was going to run a marathon, none of us thought I'd be here to see it, so it was very emotional. I feel so well now I'm back in the gym and we enjoyed a skiing holiday this year. I'm so incredibly thankful to The Royal Marsden, and to The Royal Marsden Cancer Charity for everything they do to make the hospital such a special place.