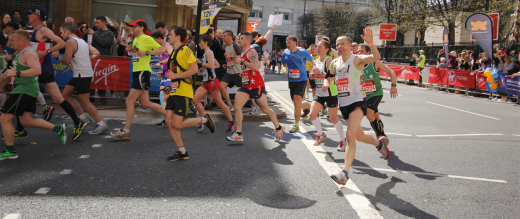 Meet our London Marathon Runners
We're proud to share some incredible stories from our London Marathon runners this year. Billy and Kate will be taking on the 26 miles on the 28th April.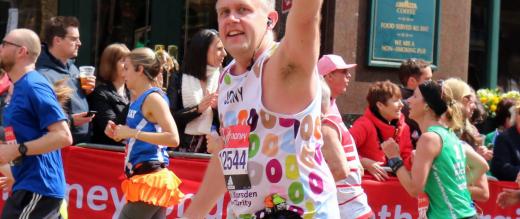 Kate's Story
37 year old Kate is an Army Major and GP. She was diagnosed with an aggressive form of Breast cancer in 2017 and successfully treated at The Royal Marsden.
"I was diagnosed after finding a lump in my breast, which turned out to be stage three cancer. It was in the middle of the night - I woke up and felt it immediately – after the diagnosis I thought, I'm a Doctor how did I miss this? My consultants told me it was aggressive and probably hadn't been there for very long."
"I wanted to go straight to The Royal Marsden for treatment. As a GP I know that it's a centre of excellence in cancer care, forward leading and forward looking. Once diagnosed I had chemotherapy, surgery and radiotherapy, followed by a targeted therapy – Herceptin."
"During my treatment I decided to apply to The London Marathon. At that point I could barely walk around the park, but signing up just gave me a goal. The Royal Marsden saved my life. Even when my first two cycles of chemotherapy didn't work, they kept trying, with compassion and kindness. Every mile I'll run will be for a different aspect of my treatment, and in the knowledge that the money I'm raising for The Royal Marsden Cancer Charity will go back to fund the hospital and support other patients go through what I went through."
"I know I'll be sobbing when I cross that finish line – I'll probably be sobbing before I even start. But I know that once I've done this, I can start to close the door on what has been one of the toughest times in my life."
Meet Billy
Billy's Dad, broadcaster and columnist Steve Hewlett died in 2017 at The Royal Marsden NHS Foundation Trust, with cancer of the oesophagus.
Since his dad passed away Billy graduated from university and been working at a multinational investment bank in London – he says the last few years have been tough, but also positive. 'Grief is a weird thing,' he explains. 'I was young -21- when Dad died. It does get better but obviously life will never be the same.' As someone who's always been sporty, he says his Dad would have been proud of him for doing this new challenge.
"It gives me goosebumps. He'd be so chuffed that I'm running a marathon, and so proud that it's for The Royal Marsden Cancer Charity. Dad absolutely loved The Royal Marsden– despite it being such a difficult time, there's nowhere else he would rather have had treatment. It had such an amazing standard of care and you know the person you love is getting the best treatment."
Billy says he expects it to be an emotional day. 'I know I'll cross the line with tears down my face. What gets you through is knowing why you're doing it, and who you're doing it for.'
Feeling Inspired?
Apply now for a place in the 2020 London Marathon.