MR Linac Scans First Paediatric Volunteer
Eight months ago, The Royal Marsden treated the first patient in the UK, and the third in the world, with the MR Linac as part of the PRISM trial for prostate cancer. Since then over ten patients have been treated as part of this trial.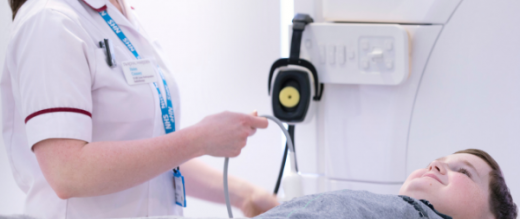 The MR Linac combines two technologies – an MR scanner and linear accelerator – to precisely locate tumours, tailor the shape of X-ray beams in real time and accurately deliver doses of radiation to moving tumours.
The team have now tested the imaging technology for the first time nationally on a paediatric patient. Debbie Burchell's son Alex, 12, was the first paediatric volunteer to be scanned on the MR Linac. He did not receive any radiation treatment, but was scanned to provide MRI images that will help test and calibrate the equipment for younger patients.
We were really pleased to be asked to help. The Royal Marsden has done so much for us during Alex's treatment and he absolutely loves being scanned. We were warned it can be quite difficult for children to lie still on an MRI scanner but Alex really enjoys going on the scanners! He was only too happy to help the MR Linac team test the scanning part of that machine. It is wonderful to think how he is helping patients like him be treated on this new machine in the future.
The installation of the MR Linac was made possible by a £10m grant from the Medical Research Council to The Institute of Cancer Research (ICR), with additional support from The Royal Marsden Cancer Charity.