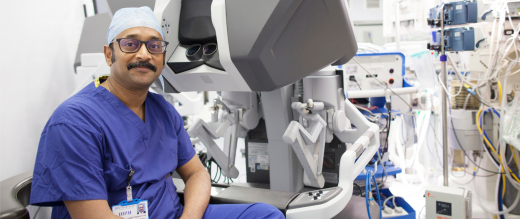 Q&A with Professor Vinidh Paleri
Prof Vinidh Paleri is one of the leading head and neck surgeons in the country, and one of the few surgeons in the UK with expertise in robotic surgery for head and neck cancers.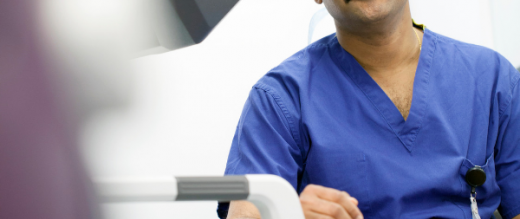 What does The Royal Marsden offer for patients with head and neck cancer?
We offer the full spectrum of care for patients with head and neck cancer. This includes cancers arising from the mouth, throat, voice box, the swallowing passage, thyroid gland, salivary gland and the skull base. This also includes everything you'd expect in terms of chemotherapy and radiotherapy where clinically appropriate, as well as immunotherapy and, thanks to supporters of The Royal Marsden Cancer Charity, we can also offer robotic surgery using the da Vinci Xi to remove tumours. 
The da Vinci robots provide a magnified 3D view inside the patient and allow surgeons to make microscopic incisions with greater accuracy and control than ever before. The accuracy of the robots means surgeons can also operate on tumours that would have been hard to reach or were previously inoperable. Being able to offer these surgeries has meant an incredible difference to the patient's quality of life after surgery.
We wouldn't be able to do what we do without the fantastic support of The Royal Marsden Cancer Charity. The Charity has funded two da Vinci Xi robots, one through a generous gift from the late philanthropist Don McCarthy and his children. The dual consoles of the da Vinci Xi also mean The Royal Marsden can run the Charity funded Robotic Surgery Fellowship, which is training the surgeons of the future. This support has enabled The Royal Marsden to become the most comprehensive centre for robotic cancer surgery in the UK, ensuring patients with urological, gynaecological, head and neck, gastrointestinal and colorectal cancers have access to the latest techniques and technology.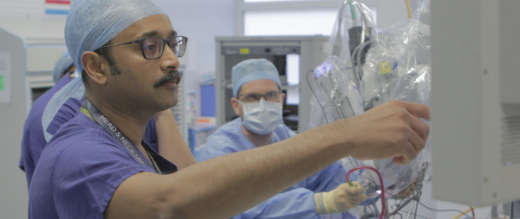 What areas of research are you involved in?
I am the lead for the surgical arm of a trial called CompARE, which is investigating the role of robotic surgery for oropharyngeal cancer, a type of head and neck cancer. We have also published what is only the third report in the world on using robotic surgery for recurrent and residual oropharyngeal cancer, which shows that using surgical robots has the same longterm results as traditional surgery, but for the patient means a shorter hospital stay, less pain and less scarring.
What developments are taking place in the treatment of head and neck cancers?
There's a clear trend towards using minimally invasive surgery. At this point in time, there are seven randomised control trials taking place around the world to assess the role of minimally invasive surgery, including robotic surgery in head and neck cancers.
Additionally, immunotherapy has been a game-changer for patients with recurrent head and neck cancers. These patients are experiencing longer-term survival with immunotherapy drugs. The Royal Marsden is leading these efforts.