Q&A: Head and Neck Cancer Research
Professor Vinidh Paleri, Consultant Head and Neck Surgeon and Director of the International Centre for Recurrent Head & Neck Cancer (IReC), reveals the aims of the virtual centre, which is being funded by The Royal Marsden Cancer Charity.
What is recurrent head and neck cancer?
This is an umbrella term for cancers of the voice box, throat, lips, mouth, nose, and salivary and thyroid glands. It's often hard to treat and aggressive and, depending on the type and site of the cancer, between a fifth and half of cases return.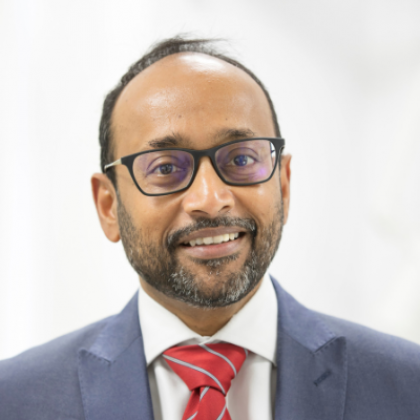 What is IReC and why was it launched?
At The Royal Marsden, we've great expertise in managing head and neck cancers. IReC harnesses the specialist knowledge of The Royal Marsden and The Institute of Cancer Research, London (ICR) by bringing together talented clinicians and researchers to create a global centre of excellence. Through research, it sets national and international standards in the treatment, palliation and supportive care of patients with recurrent head and neck cancer.
The centre is funded by The Royal Marsden Cancer Charity, thanks to the generous support of Charles Wilson and Dr Rowena Olegario plus Keith and Isabelle McDermott.
What projects are being funded?
There's a national registry to develop our understanding of recurrent head and neck cancer and capture variation in how it is treated across the UK, plus a tissue biobank to help explore and validate key research findings. Research staff, including three PhD research fellows, a network operations manager,  a senior programme manager, a programme manager for EVEREST, a senior trial manager, a trial manager, and a data manger and clinical trial administrator are also being funded.
How does the centre benefit patients?
IReC data forms the basis for multi-centre clinical trials which, ultimately, will lead to improved patient outcomes. We aim to explore minimally invasive surgery using the da Vinci Xi robots, and combining surgery with immunotherapy and other novel agents. We also hope to investigate the role of viral therapies and biomarkers in developing new treatments.
What are your hopes for the next few years?
Through the registry, biobank and leading-edge global research projects, IReC will help define standards for treatment of recurrent head and neck cancer in the NHS and, in future, internationally.
Read more blogs
Read from our collection of blogs and hear from patients about their stories, the life-saving research taking place and the latest about our upcoming events.