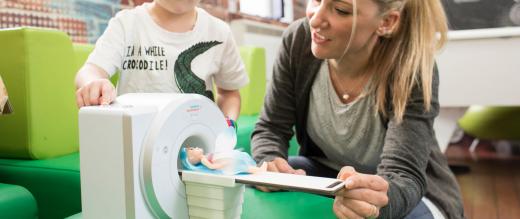 Toy scanner - helping children prepare for MRI scans
The Oak Centre for Children and Young People now has a miniature version of the scanner to help children understand what to expect when they get scans.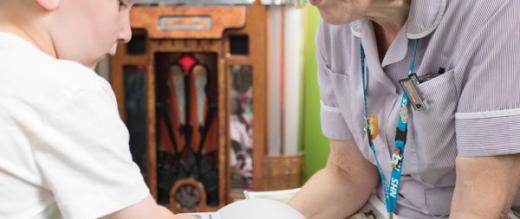 A new miniature MRI scanner funded by The Royal Marsden Cancer Charity is now being used in the Oak Centre for Children and Young People, to help better prepare young patients for scans. The 'Magnetom Mini' is just 19cm high and 40 cm long, and is used by the play specialist team to demonstrate what will happen during the procedure.
Replicating the movement and the sounds of the normal scanner, it aims to reduce anxiety and educate paediatric patients on what to expect, and what they'll need to do during the scan, such as staying incredibly still. This means patients might be able to avoid having a general anaesthetic, which is often required for children undergoing MRI scans to stop them from moving.
Senior play specialist Tanya Turner says:
"This innovative new simulation scanner has a movable table, remote control and sound effects. By increasing the familiarity of the MRI system we're seeing a positive difference for our patients. We'd like to express our thanks to supporters of The Royal Marsden Cancer Charity. It's thanks to their support that we are able to make a genuine difference to improving our patient's experience, during what is a difficult time for them and their families."
Help us to support children with cancer
Your donations help us to provide innovative solutions like the 'Magnetom Mini' in order to help children at this difficult time.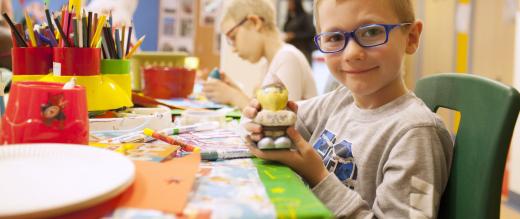 Why play is so important
In the Oak Centre for Children and Young People, our play specialists Kate, Claire, Caroline and Tanya perform one of the most vital roles in young children's cancer treatment and care.
Our patients have access to friendly playroom facilities helping children to express themselves, as well as playing host to parties on special occasions. This is essential in helping children feel comfortable and to help them cope with sometimes painful or invasive treatment.