Working over Christmas at The Royal Marsden
Over the Christmas period, our dedicated team will continue to provide high quality care to those with cancer. Our Chelsea and Sutton hospitals remain open during Christmas and some staff will continue their jobs as normal.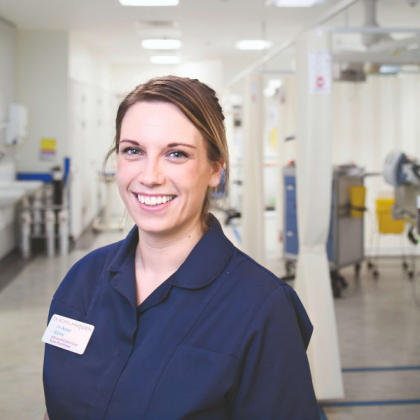 We chatted to some of our team who have been working during Christmas.
Jo—Anne, Advanced critical care practitioner, Critical Care Unit, has worked the last three years over Christmas and will be working over New Year this year. Jo-Anne has been working at The Royal Marsden for the last eight years as a senior nurse and completed her two year training program and MSc in critical care in 2018. She is one of the first nurses in London appointed to the Advanced Critical Care Practitioner (ACCP) role and is now a registered ACCP with the Faculty of Intensive Care Medicine, working alongside doctors and nurses in providing care for critically ill cancer patients.
Jo-Anne says:
The festive period is quite a special time, even in hospital. Business carries on as usual but with an added emphasis on families spending time together, visiting hours are relaxed and we encourage making their hospital room a home from home. For me it's about supporting patients to make the most out of a difficult situation, no one wants to be in hospital and especially not in critical care over the holidays.
The best part about working Christmas is the morale and camaraderie between the staff, patients and relatives.  Everyone acknowledges that being in hospital, either as a patient or member of staff, on Christmas day isn't how any of us would choose to spend it but despite that there is a real sense of positivity and everyone doing their own little bit to make it as cheerful as possible. That and obviously the endless supply of chocolates and treats make it an all-round fun day! The worst part is not spending Christmas with my own family and missing out on Christmas dinner!
The Critical Care Unit recently underwent a refurbishment funded by The Royal Marsden Cancer Charity.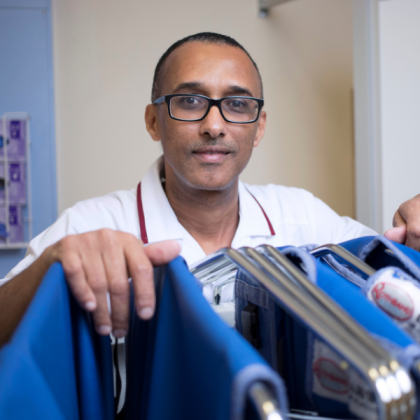 Mohamed, Senior Radiographer, worked Christmas Day last year between 9am and 5pm, and has covered the Christmas period in previous years. Mohamed has worked at The Royal Marsden as a radiographer for over 10 years. He started as a rotational radiographer in X-ray, IR and CT then was promoted to a PACS diagnostic radiographer position in July 2009.
Mohamed says:
The radiology department operates business as usual during the 2 weeks over Christmas and New Year. We produce high quality diagnostic images to aid our clinicians in deciding the best treatment and management for the patients. It is a lot quieter on these days, as the hospital tries to allow in patients to go home, if appropriate and possible, so they are with family during this festive time. I take great pride in my imaging work and role as a diagnostic radiographer and am happy to help out and cover shifts for my colleagues during the festive period. The only downside is the fact that there are very little public transport options to and from work during this time.  As radiographers, we are here to create a safe and caring environment for the patients who are unable to go home or who have to attend the hospital in an emergency situation.
The Royal Marsden Cancer Charity has partially funded the radiography machines in the imaging centre.