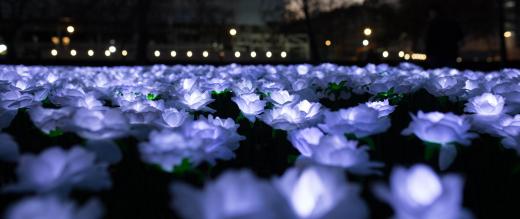 Stunning rose garden to illuminate Grosvenor Square
Thousands of roses will light up central London. Visitors will be able to dedicate their own illuminated rose to a loved one, in return for a donation to The Royal Marsden Cancer Charity.
This festive season, Londoners and visitors alike are invited to dedicate an illuminated rose in Grosvenor Square's Ever After Garden, to remember absent friends and family, and help raise funds for The Royal Marsden Cancer Charity.
The garden will be lit up with over 27,000 glowing white roses and entrance is free for visitors.
You can also be part of the installation, with the option to donate to have a white silk, illuminated rose planted in honour of your loved ones. Roses will be available to 'plant' at the garden for a suggested donation of £10, which will help raise funds to support The Royal Marsden Cancer Charity. If you can't travel to the installation you can donate online below to have a rose planted on your behalf.*
When to visit
The garden at Grosvenor Square will be open daily between 12pm and 8pm from 30 November to 22 December, creating a reflective haven in the heart of Mayfair in the lead up to Christmas.
* Please note, dedicated roses will remain as part of the installation for all visitors to enjoy and sadly cannot be distributed at the end of the event.
Donations taken at the Garden can only be made with contactless payment cards, unfortunately we cannot accept cash.
A garden for everyone
Fashion creatives writer Camilla Morton and designer Anya Hindmarch, named the Ever After Garden, in memory of the late, great Production Designer and Art Director, Michael Howells, who designed the film Ever After.
Anya Hindmarch says:
The Ever After Garden was born out of the need to pay tribute to those we have lost during the year. It was an idea originally conceived with Camilla Morton in memory of Michael Howells and is named after the film for which he designed the sets. However this garden should be personal to everyone. For me, it is also in memory of my Aunt Elizabeth Hindmarch. My wish is for this to be a place to reflect at Christmas in amongst all the festive cheer, and in doing so raise money for the incredible institution that is The Royal Marsden.
The garden has become a reality with the generous support and management of Grosvenor Britain & Ireland, and with special thanks to Korean Creative Group PANCOMMUNICATION and their 'Light Rose Garden'.  
Find out more about the Ever After Garden.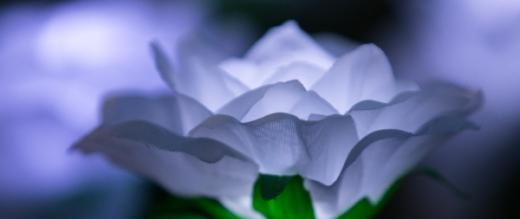 The Ever After Garden has been inspired by the Light Rose Garden, an exhibition first launched in 2014 by the Korean creative group PANCOMMUNICATION at Dongdaemun Design Plaza (DDP) in Seoul, Korea. Light Rose Garden soon became the iconic attraction of the city and within the period of a month drew more than 6 million visitors. The Light Rose Garden started its world tour in Hong Kong in February 2016 to brighten the world with the warm and positive glow of light roses. This installation has been developed in conjunction and with the kind support of PANCOMMUNICATION group.