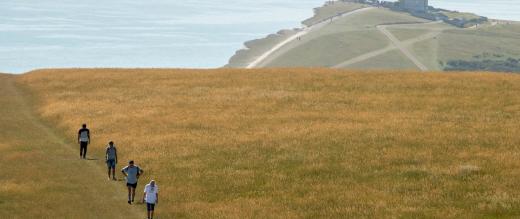 Royal Marsden South Downs Trekathon
Designated a National Park in 2010, this varied but accessible landscapes has been enjoyed by walkers for decades and is the most popular National Park in the UK today. A 26 mile trek for The Royal Marsden is the perfect way to take it all in.
Event details
Fundraising target
£250.00
A special challenge for The Royal Marsden
Breathtaking route
Starting out in the perfectly preserved old town of Lewes our route will follow the stunningly scenic South Downs Way. We will be trekking over rolling hills, high ridges peppered with long barrows, ancient earthworks, and occasionally magnificent panoramas over the English Channel.
We will also tackle some fairly stiff climbs and descents. And eventually we will reach the breathtaking final stretch over the white chalk cliffs of the Seven Sisters, before finishing on the highest chalk sea cliff in England – the beautiful headland of Beachy Head. 
Challenge yourself
This is a surprisingly tough event over rolling Downs and cliffs. At 26 miles, it forms an enormous challenge for walkers. But it is so worth it.
There will be full support throughout the challenge with marshals and water stops along the route.
Sign up!
Interested in taking part in a trek across the beautiful South Downs. Use the discount code 'Royalmarsden5' to get £5 off your registration fee before 31 March.