Sahara Desert Trek
What better a way to do something great for The Royal Marsden Cancer Charity than by discovering the landscapes, nature and communities of the Sahara?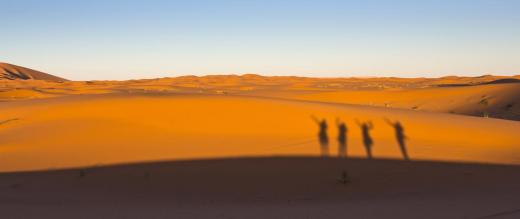 Fundraising target
£2350.00
This fascinating challenge takes you beyond the Jebel Saghro region to a forbidding landscape where on a five day trek you will walk and climb through gorges and valleys, dunes and oases. Uncover the epic views and fascinating communities of the Sahara Desert normally hidden from the curious gaze of Moroccan tourism.
The Door of the Desert opens
We start with Achbarou, the 'Door of the Desert', move along the Draa Valley to Tansikht and take in the panoramic views of the volcanic Saghro then we go off-road and trek to our first desert camp.
After a traditional Berber breakfast we will undertake a true desert experience ploughing through the undulating sand dunes before descending onto the dry riverbed of the Rhris which we follow, meandering past the nomadic communities to a camp beneath the O'Hare Gorge. 
Cutting through the dramatic gorge into flat bottomed valleys we then undertake a gruelling but spectacular ascent over the multi-coloured rock of Jebel El Mrakib where the orange dunes are slowly replaced by the open expanse of the plateau.
You will experience some of the biggest dunes in the region on the final day of trekking - heading up and over a dramatic ridge of high dunes before aiming for the palm groves of the local nomadic villages to the final camp. You will be experiencing the land of the Ait Atta tribe, who migrate here from the High Atlas Mountains in winter. 
At the end of the trip, you can celebrate your achievements in the beautiful Berber city of Ouarzazate, an iconic setting used in films and TV such as Lawrence of Arabia and Game of Thrones so present your best side for that photo op!
Get ready for the trip of a lifetime!
Places are limited so sign up on the Charity Challenge website today for an unforgettable experience that you will talk about for years to come. And don't forget to let us know too!